One Of The Biggest Complaints
From Contractors That Contact Us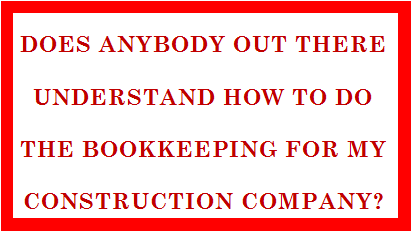 If you feel this way you are not alone. I understand because as a child growing up in a construction family in the 1960's I remember when the "Traveling Bookkeeper" would arrive at my parent's home to do their contractors bookkeeping.
I Was Always Excited To See Him Because
I Had A Ring Side Seat To The Fights!
My Mom would have all the receipts and cancelled checks organized in boxes and file folders the "Traveling Bookkeeper". He would take each one out and examine it like he was gathering forensic evidence at a crime scene and put it on the table. He would grunt, scowl and make several piles, one for each category of business and personal expenses.
That is when Mom would launch the opening salvo as she tried to explain why all of the materials and other related job costs that had been purchased were used on a variety of job sites. His reply was something to the effect "If I don't see every bit of material listed on the Invoices you gave to your customer how do I know you didn't use some of it in your own home or sell it to somebody else for cash?"
The Traveling Bookkeeper had a deep distrust of contractors, as do most regular accountants and regular bookkeepers. It is natural to be suspicious of things we do not understand and especially when someone is speaking in a language that sounds like English however it doesn't make sense.
When my parents used words like:
Job Deposit

Change Order

Payment Application

Periodic Draw

Work-In-Progress

W.I.P.

Underground

Rough-In

Trim

Finish

Charge Backs

Retention Held

Retention Billed

Balloon Framing

Bond For License

Inland Marine Insurance

Underbilling

Overbilling

Earned Value

Bid Bond

Bid Deposit

Overhead & Profit Charges

Prevailing Wage
He would respond with a "Major Eye Roll" look up at the ceiling and let out a great long breath of un-fresh air. Then he would and scrunch up his face until it looked like something out of a cartoon character before making deep noises from his chest sound like important messages from the brain and ask in a stern condescending voice like an army drill sergeant if they were serious about the construction terms they were using or were they just making them up as they went along.
This entire scenario was played out over and over for just about everything including the labor, other job related expenses and any sub-contractors until everyone was worn out, exasperated and just didn't care anymore.
The traveling bookkeeper would make the final entries in the ledgers and journals and review everything to make certain it all totaled up correctly to be sure the books were in balance.
Mom would write him a check, which he inspected carefully, put it in his shirt pocket and with a tip of his hat he was on his way out the door and disappeared for another month.
Mom would seethe with anger and proceed to clean the already spotless house with renewed vigor while mumbling about the "Traveling Bookkeeper's" lack of education and overall demeanor.
When my step-father would return from work that day, he learned to stay away while the "Traveling Bookkeeper" was visiting, he would never ask about how things went with the "Traveling Bookkeeper"; however, Mom was eager to share and share she did.
The conversation usually ended with "We need to find someone else" and my favorite "Does anybody out there know how to do bookkeeping for my construction company?" Followed by the slump in the chair and "It won't help we have tried several and this one is the best we have found!"
As a kid I was intrigued and fascinated by how completely disconnected the Traveling Bookkeeper was from our world of construction even though he had worked with my parents for several years. It was as if he had amnesia and forgot everything he should have learned between visits.
Having been involved in Construction Accounting for over thirty years I understand it completely. I made the horrible, major mistake of taking on a Chiropractor client several years ago and became the updated version of the Traveling Bookkeeper with the difference being everything we do in hosted in the cloud.
Whenever I would input receipts and transactions into the Chiropractor's QuickBooks file I would go crazy trying to remember where they went inside the Chart of Accounts. Whenever he would review the financial reports and the specific reports he needed in order to operate and grow his Chiropractic practice he would get on the phone and be quite upset.
Finally one day I realized it was hopeless for us to continue in this bad relationship because I was and am committed to serving construction contractors and their contractors bookkeeping services. I searched high and low until I found several other bookkeepers who understood Chiropractors accounting needs and made some introductions.
He found someone who understood the bookkeeping services needs of Chiropractors and I gladly helped him move. Life is great!
As a matter of fact in the course of searching for my replacement I found a few bookkeepers who had construction clients they could not wait to get rid of and they became some of our best clients.
The moral to this story is simple - Do what you do best and outsource everything that is not part of your core competency to the people who understand, appreciate and love your industry.