Chronic Bookkeeping Pain Comes From Trying To Do It Yourself, Hiring Cheap Bookkeepers and Tax Preparers Pretending To Be Bookkeepers
You Went Into Business - Because you had a passion to do something great and make a lot of money or change the way things were done in your profession.
Some Of The Best - Framers, drywallers, plumbers, electricians, HVAC mechanics, roofers, landscapers, construction project managers and other tradespeople have become wealthy construction business owners been very successful and I say more power to you!
The Four Year Apprenticeship - Is the original college degree. No matter what your trade is you spent a period of time learning and practicing it under the guidance of a master or on your own. It takes 10,000 hours of practice to master any trade and more to maintain and grow in it and so you earned the right to be your own boss.
The Tactical Side Of Your Construction Business - Is where most new contractors start by focusing on what they know how to do the tactical side of the business; bending pipe and pulling wire (Electrician), running pipe (Plumber), rolling trusses (Framer), putting mud on the ground (cement finisher), laying sod (landscaper), dirt work (Excavation), hanging cabinets (Finish Carpenter), hanging board (Drywaller) and all other construction trades.
The Strategic Side Of Your Construction Business - Bookkeeping, monthly and quarterly tax returns, sales tax returns, Labor and Industries payroll tax returns, reconciling the checking account with the bank to know how much cash is available, paying bills and collecting money gets in the way of the real work; the tactical side.
There Are - Good Bookkeepers, Bad Bookkeepers, Cheap Bookkeepers, Incompetent Bookkeepers and Tax Preparers Who Look For Fill In Work Between Tax Seasons and what you don't know can cost you a bundle of money.
The Third Quarter Blues - It takes roughly three calendar quarters, Jan-Mar / Apr-June / July - Sept / Oct - Dec before the tax agencies will bother you. They like to fatten you up a bit for the slaughter; at least that is what it will feel like when it happens.
Let's Take One Example Washington State Sales Tax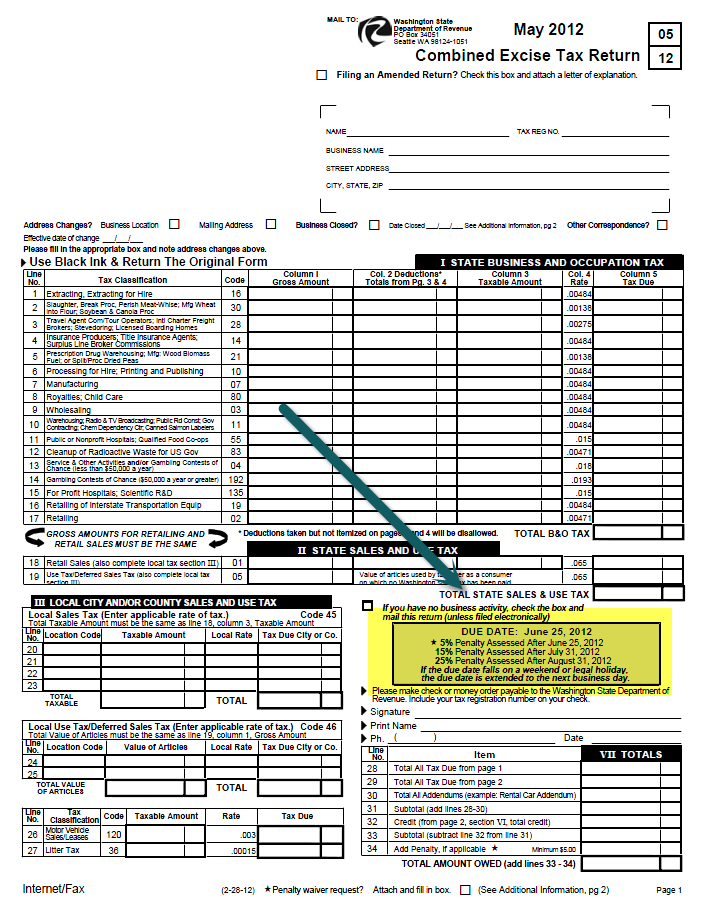 In This Example - If your Washington State Department of Revenue Combined Excise Tax Return is not filed and paid on time the effective annual interest rate is steep:
51% - For 01 days late

83% - For 65 days late

136% - For 66 days late

???? - After 66 days it could get real ugly

Additional - Charges interest and penalties could apply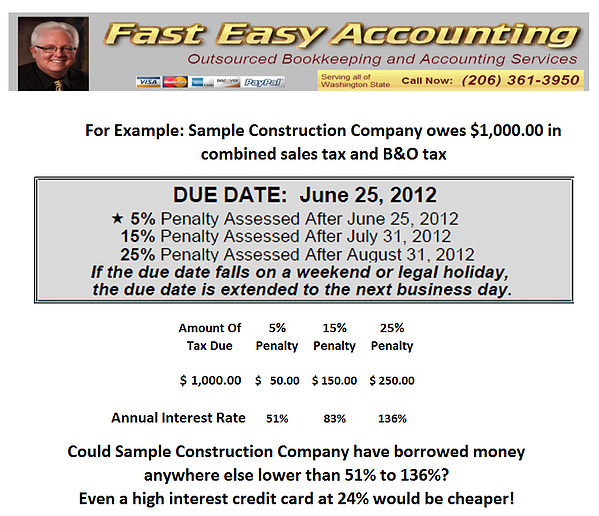 How Sales Are Reported - Cash Or Accrual Makes A Big Difference!
If You Or Anyone You Know - Is having any issues with Washington State Department of Revenue please contact Sharie 206-361-3950 or by email sharie@fasteasyaccounting.com and we may be able to help.
---------------------------------------------------------------------------------------
Chronic Bookkeeping Headaches For Contractors
Things That Make You See RED!
Are You In Trouble With - The IRS or one of the many tax agencies in Washington State?
Are You A General Contractor - Remodeler, specialty contractor, handyman, commercial tenant improvement contractor, spec or custom home builder?
Do You Need Help With - Bookkeeping, Payroll Processing, Prevailing Wage, Quarterly Tax reports, Invoicing, Job Costing, G702 / G703, Custom Pay Applications, Work In Process, bank loans, lines of credit performance bonds?
If You Answered Yes To Any Of These Questions You Are At The Right Place!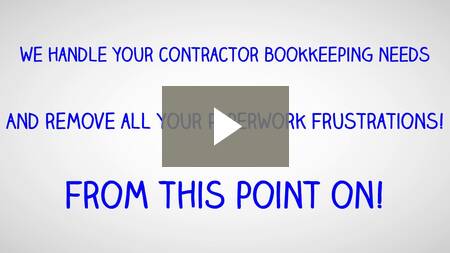 My Name Is Randal DeHart, co-founder of Business Consulting And Accounting and I have a background in construction and construction accounting. I have owned and operated construction firms, bid jobs, done the work, collected the money, made payroll and paid the taxes which means I have been where you are now.
We Specialize In Working With - Construction companies like yours by becoming your back office accounting department. We can perform all the duties of an in-house bookkeeper in most cases for less money and provide you with 24/7 access to the desktop version of your QuickBooks including backing up the file every night using our cloud computing service that we have contract with to provide those services.
Your Biggest Bookkeeping Headache Is Taxes - Every contractor I have ever known in the past 25+ years at one time or another has experienced tax troubles. They forgot to file a tax form, they did not know about a tax form or they simply ran short of money to pay the taxes. We have an answer for this problem!
Your Second Biggest Bookkeeping Headache Is Invoicing - This is your ticket to get paid. You need all your costs in QuickBooks so that your invoices are accurate. Your customers want an invoice that is easy to understand yet it has to show the original contract price, percent that is complete, change orders, deposits and more so you end up trying to force QuickBooks to do it, using a G702 / G703 or attempting to develop a custom pay application in Excel. We have an answer for this problem!
Your Third Biggest Bookkeeping Headache Is Payroll - Making sure it is done right and on time including the payroll checks that have to be made outside the normal payday, filing the tax reports, keeping track of the loans to employees and the end of the year W-2's and W-3. We have an answer for this problem!
Your Fourth Biggest Bookkeeping Headache Is Job Profitability - Knowing for certain which customers and jobs are making money for you and which ones you are losing money on. Also known as the 80/20 rule which says 80% of your profit is coming from 20% of your customers. We have an answer for this problem!
And let us help you get on the right track

!
QuickBooks Expert Specializing In Construction Bookkeeping Services
We Remove Contractor's Unique Paperwork Frustrations
For Construction Company Owners who do not need the full power of QuickBooks for contractors and want 24/7 online access we offer Xero Accounting Online and we have custom setup for construction companies. Click Here For More.
This Is One More Example of how Fast Easy Accounting is helping construction company owners all across the USA including Alaska and Hawaii put more money in the bank to operate and grow your construction company. Construction accounting is not rocket science; it is a lot harder than that and a lot more valuable to people like you so stop missing out! Call Sharie 206-361-3950 or sharie@fasteasyaccounting.com and schedule your no charge one-hour consultation.
Profitable Contractors and Construction Company owners have known about the value of outsourced bookkeeping services and contractor coaching services like ours for a long time and now you know about it too!
We Scan Your Receipts And Invoices link the appropriate transactions to QuickBooks or Xero Accounting Online depending on the construction accounting service you are using and provide ongoing Cloud Based Contractors Bookkeeping Services by accountants who understand construction.

Thinking About Outsourcing Your Contractors Bookkeeping Services To Save Time And Money?
Click On The Button Below To Download A Free Guide
Need Help Now?
Call Sharie 206-361-3950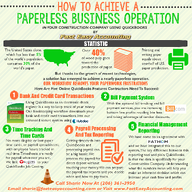 We Are Xero Accounting Experts Specializing In Construction Bookkeeping Services
About The Author:

Randal DeHart, PMP, QPA is the co-founder of Business Consulting And Accounting in Lynnwood Washington. He is the leading expert in outsourced construction bookkeeping and accounting services for small construction companies across the USA. He is experienced as a Contractor, Project Management Professional, Construction Accountant, Intuit ProAdvisor, QuickBooks For Contractors Expert and Xero Accounting Specialist. This combination of experience and skill sets provides a unique perspective which allows him to see the world through the eyes of a contractor, Project Manager, Accountant and construction accountant. This quadruple understanding is what sets him apart from other Intuit ProAdvisors and Xero accountants to the benefit of all of the construction contractors he serves across the USA. Visit http://www.fasteasyaccounting.com/randal-dehart/ to learn more.
Our Co-Founder Randal DeHart - Is a Certified PMP (Project Management Professional) with several years of construction project management experience. His expertise is construction accounting systems engineering and process development. His exhaustive study of several leading experts including the work of Dr. W. Edward Deming, Michael Gerber, Walter A. Shewhart, James Lewis and dozens of others was the foundation upon which our Construction Bookkeeping System is based and continues to evolve and improve. Check out our Contractor Success Map Podcast on iTunes and Follow Randal on Google+