Today's Article Is From Kristie Lewis
Freelance Writer For Construction Management Degree

Top 4 Construction Project Bidding Sites
(last updated: Thursday, Sep 22. 2016)
Although the construction industry is experiencing a mild recovery across the country, winning good bids is still no easy task for contractors. Because the industry has been so volatile over the past few years, many construction companies and workers have had to look further than their own back yards for profitable projects, making online project bidding one of the most important industry tools of the last decade.
Online bidding is made possible by a variety of reputable construction resource websites (such as the following four sites). These resources make project bidding more efficient by helping construction companies find the best projects in their locales and beyond. The sites below can be considered some of the best in the North American industry.
Construction.com: This is the official website of McGraw-Hill Construction, which is part of the McGraw-Hill Companies. This company has been providing the construction industry with project and product information, plans and specifications, industry news, market research and trends and forecasts for more than a century, and now they provide all of this content on one, easy-to-navigate website. The bidding projects tool is organized by state and Canadian territory and project type and provides information on the phase, valuation, location and posting date.

FedBizOpps.gov: This site is managed by the federal government and features a variety of federal business opportunities, including construction projects. Contract opportunities are organized by location, government agency and postdate. You may also search all available projects at once. Because this website is for U.S. government-related business opportunities, many of the current contracts are for reconstruction efforts in Iraq.

GovernmentBids.com: GovernmentBids.com is your one-stop-shop for government bids and contract awards on the local, state and federal levels. The website does a daily search of thousands of websites, government publications and public meeting reports to provide its registered customers with a good overview of all government business opportunities.

ReedConstructionData.com: According to its website, Reed Construction Data is a company that works to connect the people who design buildings with the people who build them. The company is a premier information and data resource for the architectural, engineering and construction industries of North America. One look at its website and you will see the company's commitment to the industry. Project leads are organized by state or Canadian territory, and in-depth project details are listed with every bid, making the decision-making process very easy for contractors.
Each of these sites does require formal "membership," which basically means you will need to set up an account. Most private online bidding sources also require some form of payment when placing a contract bid. Prices vary so be sure to review all terms and conditions before creating your account and placing bids.
As a freelance writer for http://www.ConstructionManagementDegree.org, Kristie Lewis has written numerous articles on both construction training and education and industry news and trends. In her spare time, Kristie enjoys cooking in her newly remodeled kitchen and reading science fiction novels. You can reach out to her via email at Kristie.Lewis81@gmail.com.
------------------------------------------------------------------------------------------------------------------------------
Editors Comments: Kristie has presented some extremely valuable information her and we sincerely thank her for her contribution. I trust you will find value and perhaps some good paying projects that will help increase your construction company cash flow and profits.
If You Are A Contractor You Deserve To
Be Wealthy Because You Bring Value
To Other People's Lives!
This Is One More Example of how Fast Easy Accounting is helping construction company owners just like you put more money in the bank to operate and grow your construction company. Construction accounting is not rocket science; it is a lot harder than that and a lot more valuable to people like you and me so stop missing out! Call Sharie 206-361-3950 or sharie@fasteasyaccounting.com and schedule your no charge one-hour consultation.
Profitable Contractors and Construction Company owners have known about the value of outsourced bookkeeping services and contractor coaching services like ours for a long time and now you know about it too!
We Scan Your Receipts And Invoices link the appropriate transactions to QuickBooks or Xero Accounting Online depending on the construction accounting service you are using and provide ongoing Cloud Based Contractors Bookkeeping Services by accountants who understand construction.
Thinking About Outsourcing Your
Contractors Bookkeeping Services?
Click On The Button Below To
Download A Free Guide

Need Help Now?
Call Sharie 206-361-3950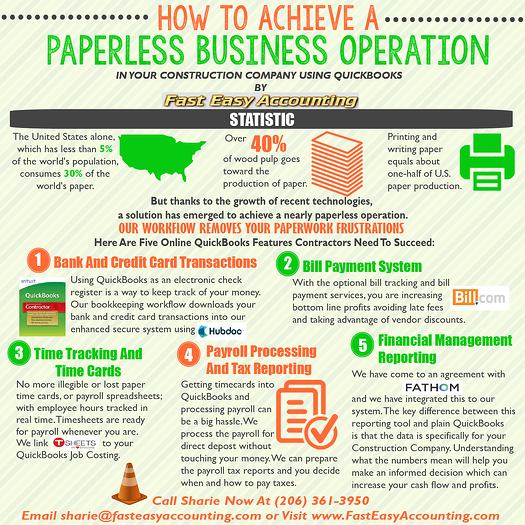 We Are Construction Accounting Experts Specializing In Construction Bookkeeping Services For Contractors All Across The USA Including Alaska And Hawaii
About The Author:

Randal DeHart, PMP, QPA is the co-founder of Business Consulting And Accounting in Lynnwood Washington. He is the leading expert in outsourced construction bookkeeping and accounting services for small construction companies across the USA. He is experienced as a Contractor, Project Management Professional, Construction Accountant, Intuit ProAdvisor, QuickBooks For Contractors Expert and Xero Accounting Specialist and Bill.Com Certified Guru. This combination of experience and skill sets provides a unique perspective which allows him to see the world through the eyes of a contractor, Project Manager, Accountant and construction accountant. This quadruple understanding is what sets him apart from other Intuit ProAdvisors and Xero accountants to the benefit of all of the construction contractors he serves across the USA. Visit http://www.fasteasyaccounting.com/randal-dehart/ to learn more.
Our Co-Founder Randal DeHart - Is a Certified PMP (Project Management Professional) with several years of construction project management experience. His expertise is construction accounting systems engineering and process development. His exhaustive study of several leading experts including the work of Dr. W. Edward Deming, Michael Gerber, Walter A. Shewhart, James Lewis and dozens of others was the foundation upon which our Construction Bookkeeping System is based and continues to evolve and improve. Follow Randal on Google+