It Depends On Your Computer And Server Technician Resources - If you or someone in your office can maintain, navigate, setup, copy, move and delete sensitive data files and folders in a Microsoft Windows environment for desktop computers, notebook computers and mobile devices and inside remote network environments over the internet then you have the basics of what is needed.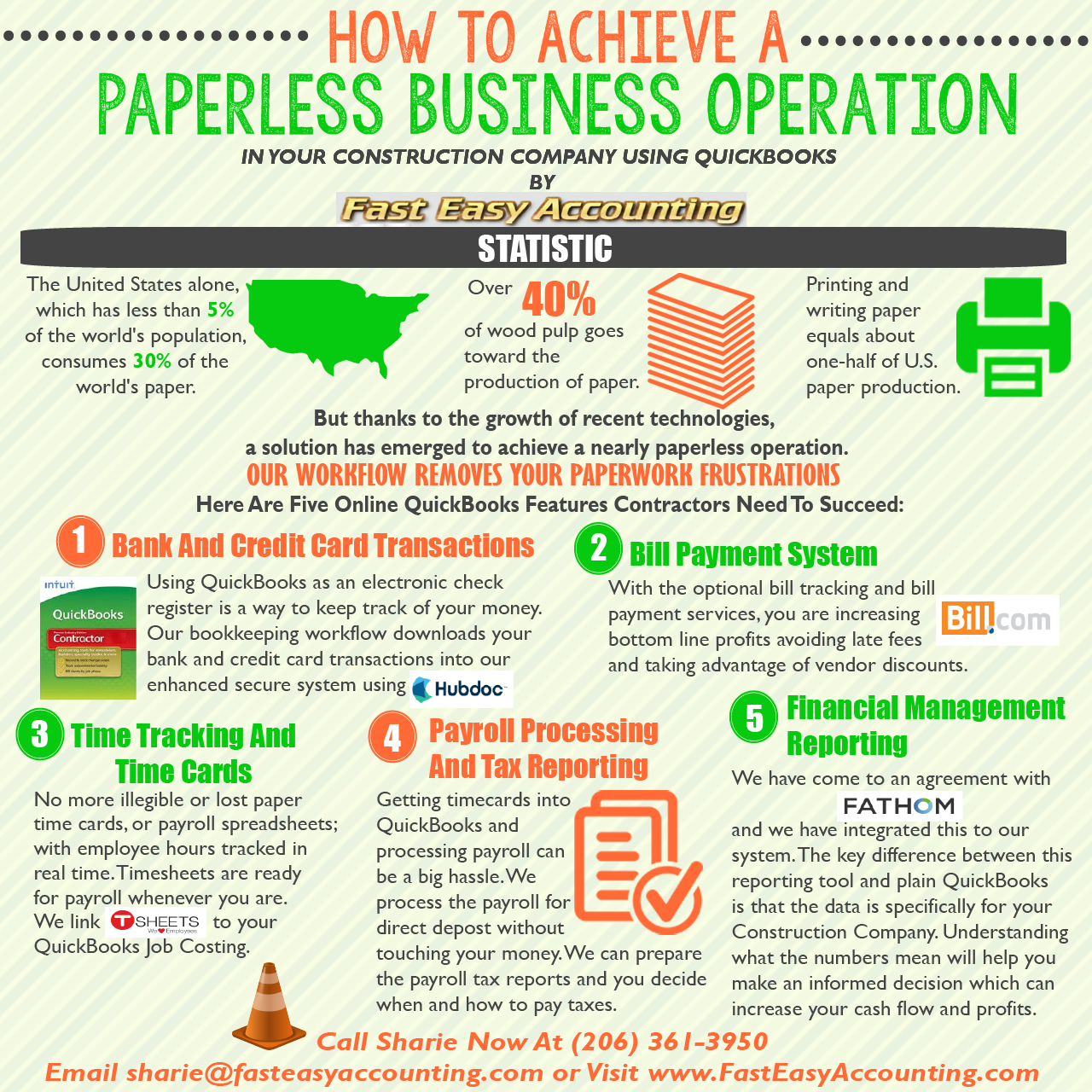 We Have Used Cloud Computing - Services for our desktop QuickBooks and MS Word and Excel to cloud computing hosting companies for many years. Since we provide live outsourced bookkeeping services using QuickBooks we are very careful to only use Intuit approved commercial hosting services. These Firms that have met the requirements of Intuit, parent company of QuickBooks to host desktop versions of QuickBooks software including Pro, Premier and Enterprise versions.
They Cost More Than Unapproved - QuickBooks hosting services but without a doubt it is money well spent because they have redundant backups and systems in place to protect your data. And they keep their software and licenses current in addition to having tech support agreements with Intuit and Microsoft.
Now The Bad News - We learned the hard way they all promise more than they can deliver as of when I wrote this article on June 07, 2012 price has nothing to do with the quality of the service; you can pay more and get less and pay less and get more.
Tech Support - I have learned more than I ever wanted to know about server technology, active directory, virtual server environments, swap files and more. Because sometimes in order to get your tech support issues handled, including getting the service back up and running, you will need to make decisions about technical issues and in some cases suggest solutions. It will drive you crazy!
Not Taking An Active Role - In tech support issues means your service could be down for hours or even a day or more. By the way save time and admit that everything that went wrong is your fault even if you know it wasn't. And there will be times you must engage a local network technician to come to your office to assist with the remote tech support issues. We have had to do this many, many times.
In Defense Of Tech Support:
They have little or no influence regarding equipment and server software purchases. They have to make whatever is available do the best job possible.

Some cloud services own the equipment some lease. We found no major advantage either way. The key is how often their equipment is upgraded.

Computers and servers are a collection of hundreds or even thousands of parts, with small bits of software built-in, that came from multiple suppliers, assembled into a box with millions of tiny electrical charges running all over the place zapping the sensitive electronic components billions of times a second; and if all goes well the computer or server actually works.

Multiply #3 above by trillions of parts and pieces that make up the internet (internet / cloud / web different names for the same thing) which the server technicians have absolutely no control over, yet they bear 100% of the responsibility when it fails.

Add the collection of desktop computers in your office, my office and thousands of other offices with scores of different programs and operating systems which he server technicians have absolutely no control over, yet they bear 100% of the responsibility when it fails.

Network technicians working in a cloud computing server environment have an incredible amount of patience and they develop a very thick skin. May God bless them one and all! I have a lot of respect and admiration for what they do!
Everything Is A Trade Off - You will need to pick and choose from the following list and understand that nobody offers a one stop shopping with everything you need:
Fast connection to the cloud server hundreds or thousands of miles away so QuickBooks operates in real time

Plenty of storage space. One of the services we used placed a limit on storage space which made our connection very slow. They never told us they did it or why. We only found out after many hours of on the phone and in person tech support with Comcast because we have 50MB x 10MB internet connection and it was working properly. Finally we called in a local network specialist and in 10 minutes he discovered that we did not have enough storage space on the cloud server which created a bottle neck in the data flow. The cloud service firm refused to give us what we wanted and insisted on giving us what they thought we needed. Always give your customer or client what they want, if they are willing to pay for it, and we were! The time and money we lost dealing with this issue was in excess of $3,000. Subsequently, we moved to a different cloud computing service that sold us as much storage room as we wanted to buy.

All versions of QuickBooks available all the time

Knowledgeable English speaking technical support or whatever your language you speak.

Emergency tech support after their normal business hours

Microsoft Word and Excel

Other software you need for your business
We Use Over 50 Different Software Products - To support our bookkeeping services clients and we have found that 10 software products to be the limit any one cloud hosting company can support well at any one time. They can certainly add as many as you want to your account, just expect to have lots of tech support issues.
Cloud Computing - With all the challenges is far better for us than having servers in our office.
Our Outsourced Bookkeeping Services - Clients have no idea of the amount of support we do on their behalf to keep the entire system running. They trust us to do whatever it takes to keep it up and running and that is exactly what we do for them.
Do-It-Yourself or Hire Us? - You can do your own research, take a chance and engage any one of the cloud computing services or you can go through us. We can have you up and running in the cloud in two business days, in most cases.
Our Rates Are Fixed - Flat rate pricing, no unpleasant surprises. You can operate as a do-it-yourself hosted only client with all the benefits of cloud computing in addition to the QuickBooks and other tech support we provide. You can go full service and have all your bookkeeping done for you or you can pick and choose to add the cost of bookkeeping services, payroll, tax reporting services as you need them.
Another Benefit Of Working With Us - When we find a better cloud hosting service we do all the work required to move you to the new service.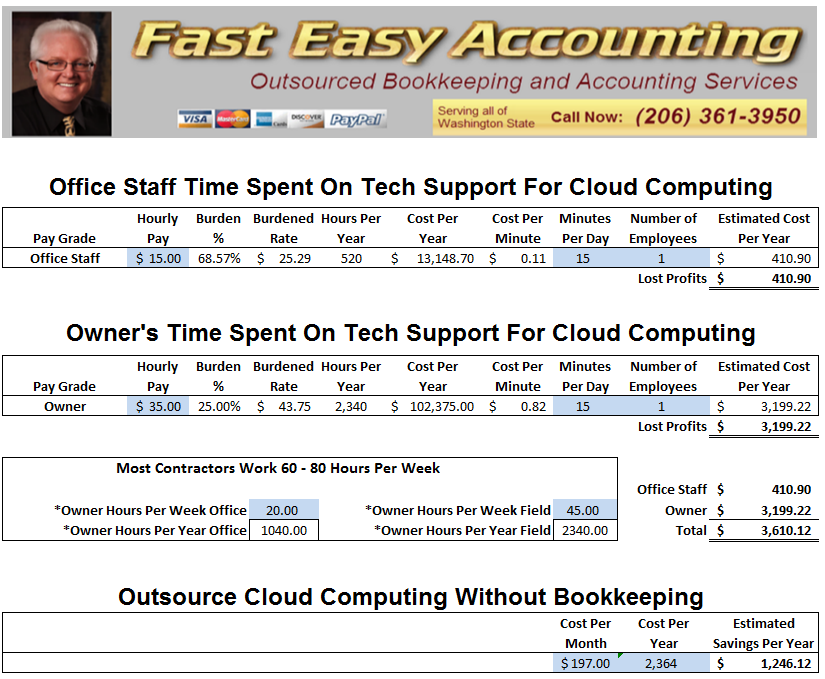 We Remove Contractor's Unique Paperwork Frustrations
For Construction Company Owners who do not need the full power of QuickBooks for contractors and want 24/7 online access we offer Xero Accounting Online and we have custom setup for construction companies. Click Here For More.
This Is One More Example of how Fast Easy Accounting is helping construction company owners all across the USA including Alaska and Hawaii put more money in the bank to operate and grow your construction company. Construction accounting is not rocket science; it is a lot harder than that and a lot more valuable to people like you so stop missing out! Call Sharie 206-361-3950 or sharie@fasteasyaccounting.com and schedule your no charge one-hour consultation.
Profitable Contractors and Construction Company owners have known about the value of outsourced bookkeeping services and contractor coaching services like ours for a long time and now you know about it too!
We Scan Your Receipts And Invoices link the appropriate transactions to QuickBooks or Xero Accounting Online depending on the construction accounting service you are using and provide ongoing Cloud Based Contractors Bookkeeping Services by accountants who understand construction.

Thinking About Outsourcing Your Contractors Bookkeeping Services To Save Time And Money?
Click On The Button Below To Download A Free Guide

Need Help Now?
Call Sharie 206-361-3950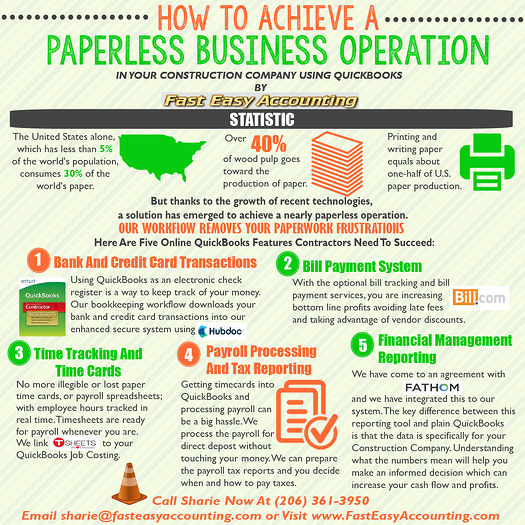 We Are Xero Accounting Experts Specializing In Construction Bookkeeping Services
About The Author:

Randal DeHart, PMP, QPA is the co-founder of Business Consulting And Accounting in Lynnwood Washington. He is the leading expert in outsourced construction bookkeeping and accounting services for small construction companies across the USA. He is experienced as a Contractor, Project Management Professional, Construction Accountant, Intuit ProAdvisor, QuickBooks For Contractors Expert and Xero Accounting Specialist. This combination of experience and skill sets provides a unique perspective which allows him to see the world through the eyes of a contractor, Project Manager, Accountant and construction accountant. This quadruple understanding is what sets him apart from other Intuit ProAdvisors and Xero accountants to the benefit of all of the construction contractors he serves across the USA. Visit http://www.fasteasyaccounting.com/randal-dehart/ to learn more.
Our Co-Founder Randal DeHart - Is a Certified PMP (Project Management Professional) with several years of construction project management experience. His expertise is construction accounting systems engineering and process development. His exhaustive study of several leading experts including the work of Dr. W. Edward Deming, Michael Gerber, Walter A. Shewhart, James Lewis and dozens of others was the foundation upon which our Construction Bookkeeping System is based and continues to evolve and improve. Check out our Contractor Success Map Podcast on iTunes and Follow Randal on Google+