Why Hire Us?
Benefits of Hiring Fast Easy Accounting vs. an Employee
Flat Fee No Hourly Rate Surprises
You don't have to pay for payroll taxes, workers compensation insurance, health and other benefits, or office expenses. We will work within your budget, so there are no surprises. In most cases our services are cheaper than hiring a qualified employee and you can choose hourly or flat fee.

Efficiency
Unlike employees, you don't pay for any 'down time' or office chatter, excessively long breaks, cell phone calls, surfing the web. You are charged only for the time our professional bookkeepers are actually doing your construction bookkeeping work. Our people have the knowledge, skill and we have systems in place to work fast, saving you time and money.
Consistency
We welcome short term assignments and can help with emergency bookkeeping situations. You'll enjoy a long-term relationship with one of our advanced-level Bookkeepers, Consultants and/or Senior Consultants. A big problem with hiring an employee is turnover. Every time an employee leaves, you'll have to spend hours training a new one. Frequent turnover can also result in inconsistencies in your data and procedures. The more frequent the turnover, the worse the problems can be. We have a Bookkeeping System with checklists for our new and experienced staff which means your bookkeeping is always done right and on-time because we are process dependent, not people dependent.

Professionalism
As a non-employee, we are able to give helpful, honest advice on how to improve your procedures and overall efficiency. Most employees want to simply fill their time and are resistant to change. For a sample of our services please visit our Business Processes Development For Winning Strategies.

Complete Confidentiality
You will never have to worry about the confidentiality of your records and information. Our contract guarantees it.

Quality & Experience
We pride ourselves on employing the highest quality bookkeeping professionals and ProAdvisors in the business. Our employees have passed our extensive test, a thorough background check, and personality screening process. Most of our employees have over 10,000 hours of bookkeeping experience. This level of experience is very difficult to find when seeking a part-time employee.
We Change With You as Your Company Grows
Perhaps your company requires more hours? No problem! Perhaps your company requires fewer hours? No problem! Perhaps you decide its time to hire a full-time individual? We'll train them! Whatever you need, we provide it guilt-free!

No Commitment Required
Our contract has no time minimum time commitment clause. You have our service for as long as you need it. There is nothing to lose.
Profitable Construction Companies have known about and outsourced bookkeeping for a long time and now you know about it too!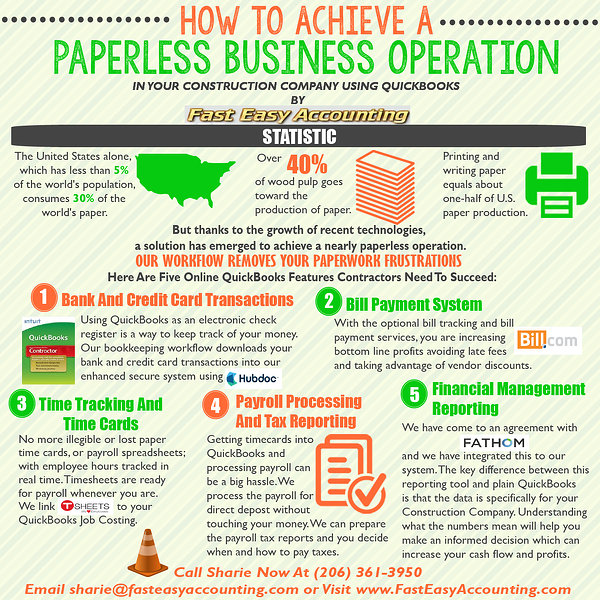 Please Call Sharie when you get a chance for a quick chat. I can be reached at 206-361-3950 or sharie@fasteasyaccounting.com.

Fast Easy Accounting
19909 64th Avenue West, Suite B, 2nd Floor
Lynnwood, Washington, 98036
206-361-3950
Profitable Construction - Companies have known about the value of outsourced bookkeeping services for a long time and now you know about it too!
Fill Out The Form And Get The Help You Need!