What Is Xero Accounting Online?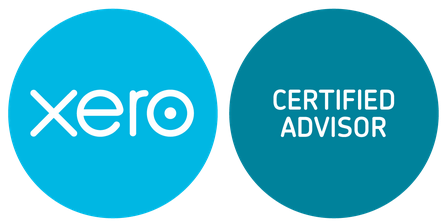 Xero Accounting Online Is An Established Leader In Accounting Software having been around since July 2006 and has quickly grown to over 200,000 users. Xero Accounting Online has taken a refreshing approach to accounting software by blending the best of desktop accounting software with the comfort and convenience of cloud based accounting software.
They have eliminated the aggravation, cost and hassle of keeping on top of a hosted server environment which is designed to operate the full desktop versions of QuickBooks, Peachtree, Sage or other software solutions. And they have made obsolete some of the less useful online software which was built as a lite version of their desktop counterparts like QuickBooks Online.
We Will Continue Offering QuickBooks outsourced bookkeeping services since it offers benefits to medium and large construction contractors (4 - 50 employees) that Xero Accounting Online does not.
At The Price Point Intuit Offers The Versions Of QuickBooks including QuickBooks Pro, QuickBooks For Contractors and QuickBooks For Contractors Enterprise no other construction accounting software comes close too offering the robust Job Costing Reports, Work-In-Progress Reports And Tracking (WIP) and hundreds of other combined reports and features medium and large contractors need in order to operate and grow their construction company.
For The Record We Are HUGE Fans Of Intuit the makers of QuickBooks and have used QuickBooks desktop since the first version was released in 1992. In fact in 2005 we migrated to an Intuit Approved commercial hosting environment so we could offer our clients all of the benefits of the full desktop version of QuickBooks accessible online 24/7 and it has been a huge success. The pain point is that we were forced to learn more about the inner workings of a computer server and working with remote technicians than we ever cared to know.
Xero Accounting Online Is The Global Leader in online accounting with over 200,000 paying customers in over 100 countries. Xero's US headquarters are in San Francisco with satellite offices in Los Angeles, Atlanta, New York, and Denver.
Xero Accounting Online Is Making Small Businesses Better by saving time on back-office processes and giving their advisors the ability to provide higher-value, higher-impact services.
Their Cloud Platform Approach allows market leading business applications like Expensify, ADP, PayPal, Stripe and Bill.com to integrate seamlessly and major financial institutions like City National Bank to feed transactions directly into the ledgers of Xero Accounting Online users.
Xero Accounting Online Makes Accounting Quick And Painless For Small Business Owners Including Contractors
Bank transactions are automatically fed into your accounting software, eliminating the need for manual data entry. Invoices can be created, customized and sent on the fly. All your outstanding bills can be paid at once, with only a few clicks. Xero Accounting Online integrates with over 200 other applications, making it possible to connect all the tools you use to keep your business running smoothly. Our online accounting software frees up time and energy that can better invested in the operation of your business.
Xero Accounting Online and the cloud
Xero Accounting Online is hosted in the cloud and delivered to their customers via a SaaS (Software as a Service) model. It is accessible anywhere you have an internet or wireless connection. With online accounting software like Xero Accounting Online, nothing needs to be downloaded or installed. No setup fees, upgrade costs, or contracts are required. You simply sign up, login and begin your accounting work anytime, anywhere.
Do You Own A Small Construction Contracting Company?
Perhaps you own a service and repair firm that specializes in plumbing, electrical, HVAC, or maybe a handyman service or someone who does small construction projects that last from a few hours to a few days and you only need to give your customer or client one invoice?
If this describes you then perhaps Xero Accounting Online is a better fit for you than QuickBooks. We offer both Xero Accounting Online and QuickBooks bookkeeping services for construction contractors and have found the dividing line is how you get paid.
QuickBooks Is Best If You:
Take Job Deposits

Have Change Orders

Issue Multiple Invoices

Need Job Costing Reports

Need Payment Applications

Periodic Invoices For Bank draws

Need Complex Construction Accounting Reports
Xero Accounting Online Is Best If You:
Have Simple Jobs With One Invoice

Need Basic Key Performance Indicator Financial Reports
We Make Getting Started With Xero Accounting Online Painless!



Xero Accounting Online Conversion
Do you want to use Xero Accounting Online, but dread moving everything from QuickBooks or some other accounting software? We can do it all for you:
Xero Accounting Online Setup
If you are a new company just starting out, if you qualify we can set up your company on Xero Accounting Online and give you 30 days of Xero Accounting Online for FREE so you can find out if Xero is right for you!
Xero Contractors Bookkeeping Services:

Our Contractors Bookkeeping Services include: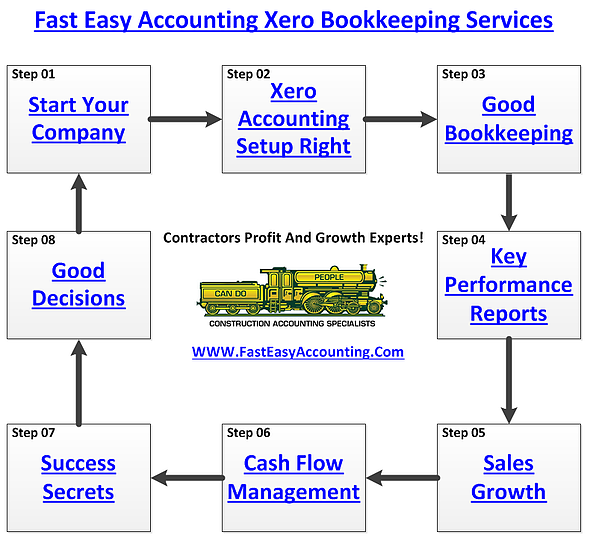 Pricing Depends Upon the number of accounts, invoicing frequency and number, average daily transactions, number of employees, the amount of business coaching and virtual CFO services you want. We offer MANY other customization options so please ask.
Fill

Out The Form And Get The Help You Need!
Need Help Now?
Call Sharie 206-361-3950
For Construction Company Owners who do not need the full power of QuickBooks for contractors and want 24/7 online access we offer Xero Accounting Online and we have custom setup for construction companies. Click Here For More.
This Is One More Example of how Fast Easy Accounting is helping construction company owners just like you put more money in the bank to operate and grow your construction company. Construction accounting is not rocket science; it is a lot harder than that and a lot more valuable to people like you and me so stop missing out! Call Sharie 206-361-3950 or sharie@fasteasyaccounting.com and schedule your no charge one-hour consultation
Profitable Contractors and Construction Company owners have known about the value of outsourced bookkeeping services and contractor coaching services like ours for a long time and now you know about it too!
We Scan Your Receipts And Invoices link the appropriate transactions to QuickBooks or Xero Accounting Online depending on the construction accounting service you are using and provide ongoing Cloud Based Contractors Bookkeeping Services by accountants who understand construction.


Thinking About Outsourcing Your Contractors Bookkeeping Services?
Click On The Button Below To Download A Free Guide
Fill

Out The Form And Get The Help You Need!
Need Help Now?
Call Sharie 2

06-361-3950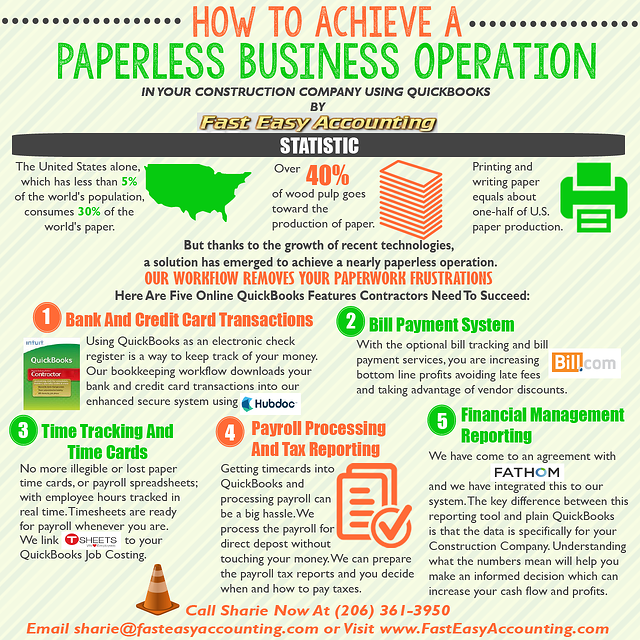 We Are QuickBooks Experts Specializing In Construction Bookkeeping Services
About The Author:

Randal DeHart, PMP, QPA is the co-founder of Business Consulting And Accounting in Lynnwood Washington. He is the leading expert in outsourced construction bookkeeping and accounting services for small construction companies across the USA. He is experienced as a Contractor, Project Management Professional, Construction Accountant, Intuit ProAdvisor, QuickBooks For Contractors Expert and Xero Accounting Specialist and Bill.Com Certified Guru. This combination of experience and skill sets provides a unique perspective which allows him to see the world through the eyes of a contractor, Project Manager, Accountant and construction accountant. This quadruple understanding is what sets him apart from other Intuit ProAdvisors and Xero accountants to the benefit of all of the construction contractors he serves across the USA. Visit http://www.fasteasyaccounting.com/randal-dehart/ to learn more.
Our Co-Founder Randal DeHart - Is a Certified PMP (Project Management Professional) with several years of construction project management experience. His expertise is construction accounting systems engineering and process development. His exhaustive study of several leading experts including the work of Dr. W. Edward Deming, Michael Gerber, Walter A. Shewhart, James Lewis and dozens of others was the foundation upon which our Construction Bookkeeping System is based and continues to evolve and improve. Check out our Contractor Success Map Podcast on iTunes and Follow Randal on Google+Follow Randal on Google+