QuickBooks Year End Closing Tips For Your Construction Company


Video Below Shows You How To Use The Checklist
QuickBooks Makes Some Closing Entries Automatically
Several years ago the accounting departments of smaller construction companies with less than $10M in annual sales had to slog through dozens of mind numbing General Journal Entries in order to "Close The Books". With QuickBooks that process is mostly automatic.
There are still a few things the accounting department needs to do. The easiest method is to open QuickBooks and go to the help menu and click on the "Year End Guide" as shown below:

A QuickBooks Year-End Guide similar to the one shown below will pop-up. It may vary depending on the version of QuickBooks you are using.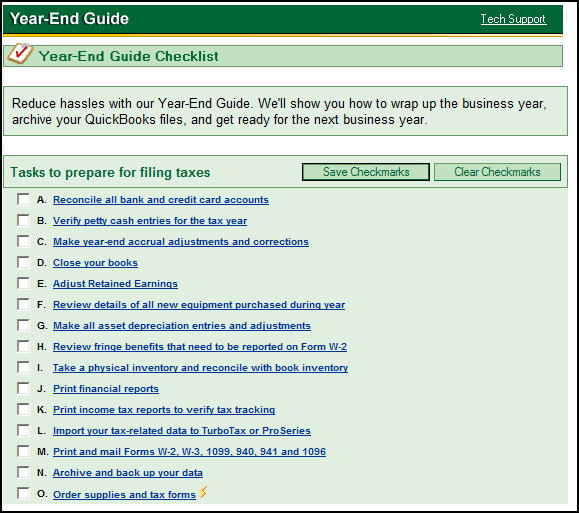 When you click on a task with your mouse the help screen for that task pops up and guides you through the process which normally takes several hours depending on the amount of bookkeeping data in your QuickBooks file and how complex your construction accounting system is setup.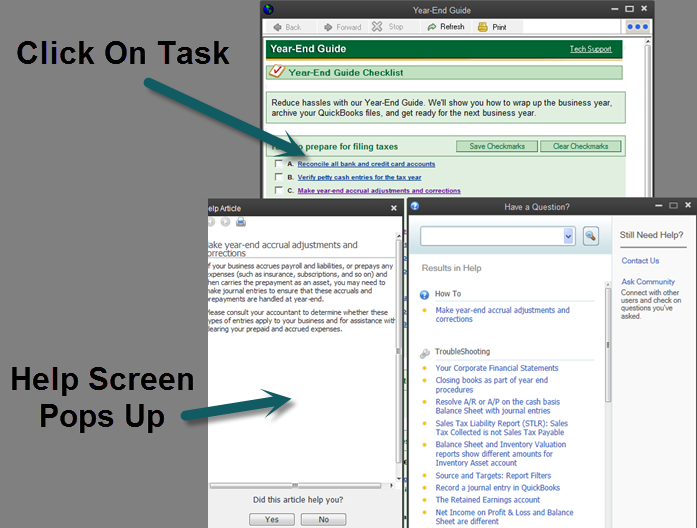 Get Ready For The Tax Preparer Step-By-Step
Gather Receipts Into One Container

Review Personal Bank Statements - Business

Review Business Bank Statements – Personal

Reconcile Bank And Credit Card Accounts

Verify Petty Cash Entries

Invoice Unbilled Work

Money In (Accounts Receivable)

Inventory Count By December 31st

Fixed Assets Balance And Depreciation

Money Out (Accounts Payable)

Retirement Contributions - 401 (k), IRA, Etc.

Notes Payable, Loans, Mortgages, Credit Lines

Mileage Log / Each Vehicle / Business Use

W-9's From Vendors & Contractors Over $600

Payroll Tax Deposits Match Quarterly Returns

Verify Profit And Loss - Does It Make Sense?

Back Up All Your QuickBooks Data Onsite And Offsite
When Your Computer Crashes Your QuickBooks Data Is Gone Forever!
We strongly recommend you have a basic disaster recovery plan in place.
Step #1 back up QuickBooks onsite
Step #2 back up QuickBooks in the cloud
If your QuickBooks is resting on our QuickBooks Desktop In The Cloud Intuit Approved QuickBooks Hosting service that has multiple backup procedures in place you do not need to back up again.
We have prepared a PDF checklist you can download by clicking on the buttons below. There is nothing to fill out, simply click on the button and download it to your heart's content.
We offer QuickBooks year end closing services if you prefer not to do it yourself or rely on someone who only does it once a year and the prices are very reasonable.
Going Forward Is QuickBooks Right For Your Construction Company?
If you find that QuickBooks is not doing what you want it to do and not giving you the reports you want you may want to consider trying Xero Accounting Online.
If you are starting a construction company you could qualify to have us set up your company in Xero Accounting Online and give you 30 days of Xero Accounting Online for FREE so you can find out if Xero Accounting Online is right for you!
We offer both Xero and QuickBooks bookkeeping services for construction contractors and have found the dividing line is how you get paid.
QuickBooks Works Best If You
Take Job Deposits

Have Change Orders

Issue Multiple Invoices

Need Job Costing Reports

Need Payment Applications

Periodic Invoices For Bank draws

Need Complex Construction Accounting Reports

Xero Accounting Online Works Best If You
Have Simple Jobs With One Invoice

Need Basic Key Performance Indicator Financial Reports

We Make Getting Started With Xero Painless!



Xero Accounting Online Conversion
Do you want to use Xero Accounting Online, but dread moving everything from QuickBooks or some other accounting software? We can do it all for you:
Xero

Accounting Online

Setup
If you are a new company just starting out you could qualify for our FREE basic company setup in Xero Accounting Online and give you 30 days of Xero Accounting Online software for FREE so you can find out if Xero is right for you!

Xero Contractors Bookkeeping Services

Our Bookkeeping Services include: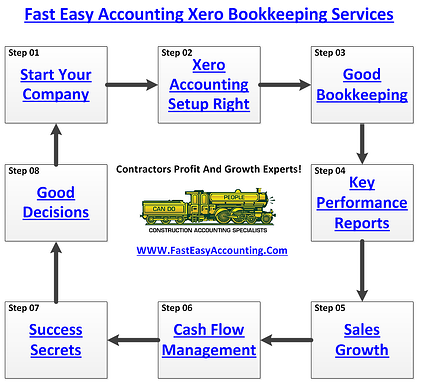 Pricing Depends Upon the number of accounts, invoicing frequency and number, average daily transactions, number of employees, the amount of business coaching and virtual CFO services you want. We offer MANY other customization options so please ask.
This Is Only The Tip - Of the Iceberg. Everything we publish in our blog posts, articles in other websites, and anything you can find on the web is nothing compared to what is available to you as our client. We show only the basic tools to open your mind to the possibilities that are available to you. The best finish carpentry tools in the hands of a golf professional without proper carpentry training will not produce anything near to what a skilled finish carpenter can. The same can be said about the best construction business consulting and accounting tools in the hands of a skilled finish carpenter. And I say that with respect and admiration for everyone in construction.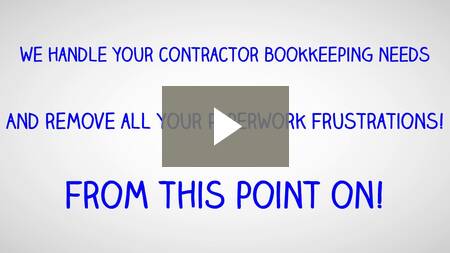 When You Become A Client - Then we can tap into our resources of knowledge and strategy banks. We use the reports hidden in you QuickBooks in order to diagnose and understand your construction business and develop plans and help you implement a path to success for you and you alone because every contractor has unique Strengths, Weaknesses, Opportunities and Threats (S.W.O.T. Analysis) that when understood can lead to a Strategic Roadmap which cannot help but make a lot of money.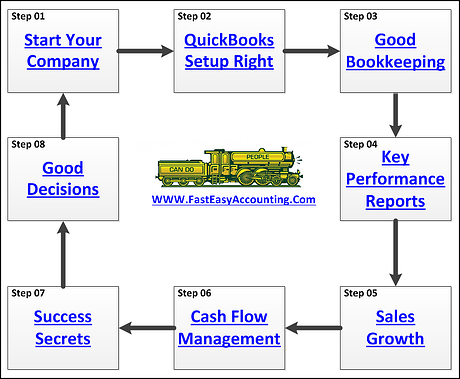 If You Are A Contractor You Deserve To
Be Wealthy Because You Bring Value
To Other People's Lives!
This Is One More Example of how Fast Easy Accounting is helping construction company owners just like you put more money in the bank to operate and grow your construction company. Construction accounting is not rocket science; it is a lot harder than that and a lot more valuable to people like you and me so stop missing out! Call Sharie 206-361-3950 or sharie@fasteasyaccounting.com and schedule your no charge one-hour consultation.

Profitable Contractors and Construction Company owners have known about the value of outsourced bookkeeping services and contractor coaching services like ours for a long time and now you know about it too!
We Scan Your Receipts And Invoices link the appropriate transactions to QuickBooks or Xero Accounting Online depending on the construction accounting service you are using and provide ongoing Cloud Based Contractors Bookkeeping Services by accountants who understand construction.
Thinking About Outsourcing Your
Contractors Bookkeeping Services?
Click On The Button Below To
Download A Free Guide


Need Help Now?
Call Sharie 206-361-3950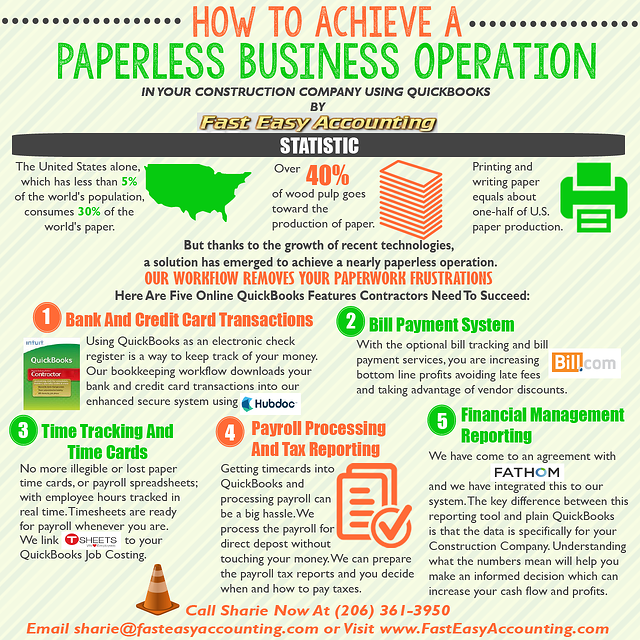 We Are Construction Accounting Experts Specializing In Construction Bookkeeping Services For Contractors All Across The USA Including Alaska And Hawaii
About The Author:

Randal DeHart, PMP, QPA is the co-founder of Business Consulting And Accounting in Lynnwood Washington. He is the leading expert in outsourced construction bookkeeping and accounting services for small construction companies across the USA. He is experienced as a Contractor, Project Management Professional, Construction Accountant, Intuit ProAdvisor, QuickBooks For Contractors Expert and Xero Accounting Specialist and Bill.Com Certified Guru. This combination of experience and skill sets provides a unique perspective which allows him to see the world through the eyes of a contractor, Project Manager, Accountant and construction accountant. This quadruple understanding is what sets him apart from other Intuit ProAdvisors and Xero accountants to the benefit of all of the construction contractors he serves across the USA. Visit http://www.fasteasyaccounting.com/randal-dehart/ to learn more.
Our Co-Founder Randal DeHart - Is a Certified PMP (Project Management Professional) with several years of construction project management experience. His expertise is construction accounting systems engineering and process development. His exhaustive study of several leading experts including the work of Dr. W. Edward Deming, Michael Gerber, Walter A. Shewhart, James Lewis and dozens of others was the foundation upon which our Construction Bookkeeping System is based and continues to evolve and improve. Follow Randal on Google+