Strategic Contractor Bookkeeping Services
Where Contractors Paperwork Frustrations Are Removed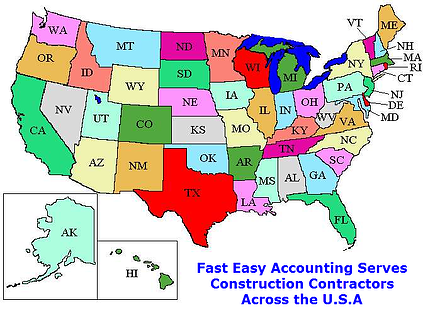 Is Your Wife, Girlfriend, Partner Or Bad Bookkeeper Providing Your Contractors Bookkeeping Services?
Is it causing strain on your relationships?
Does your bookkeeper have any of these bad habits?
Does your contractors bookkeeping service look like the diagram below?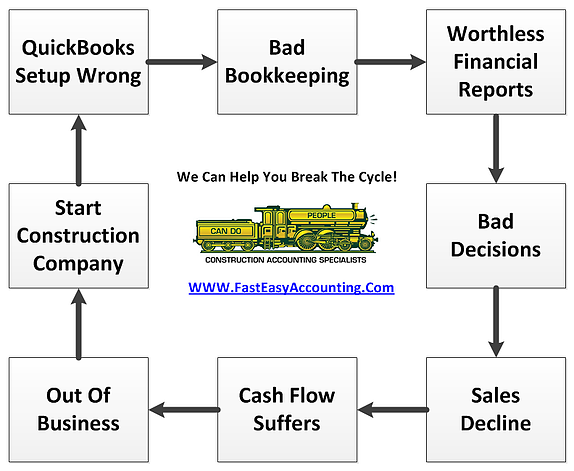 We May Be Able - To do all your construction bookkeeping services professionally for less than you are spending now!
People Ask How - Can we save them $100's or even $1,000's dollar a year when they can do their own construction bookkeeping or hire a Cheap Bookkeeper? Read our article Cheap Bookkeepers
The System Is The Solution - In 1991 we developed a Comprehensive Construction Strategic Bookkeeping System to add useful content to QuickBooks setup in order to make it work for construction companies. Since then we have made thousands of improvements and we continually improve, update, innovate and enhance it.
Thinking About Outsourcing Your Contractors Bookkeeping Services To Save Time And Money?
Click On The Button Below To Download A Free Guide
In Addition To The Premier - outsourced contractor bookkeeping services and paperless vault for storing documents, linking them to QuickBooks for Contractor transactions, retrieving, printing and emailing them our contractor clients can have on demand 24/7 internet cloud based access to their financial reports without having to open, touch or even look at QuickBooks For Contractors!
The Short Video Below Tells The Whole Story
Having Worked With Contractors - And seen 100's of QuickBooks setup files, met with lots of bankers, bonding companies, commercial insurance brokers in addition to our own experiences owning and operating construction businesses we understand the special type of strategic bookkeeping services that construction company owners like you need.
Having owned and operated - Several construction businesses over the past 30+ years we understand your industry and best practices when it comes to contractors bookkeeping, construction accounting and operating a profitable construction business.
One Key To Success - Is delegating stuff you don't like doing because you aren't doing it right anyway.
Our Strategic Bookkeeping Services System Delivers - Strategic contractors bookkeeping services right and on time because we are not at the mercy of our bookkeeping staff.

What You Get With Our Contractors Strategic Bookkeeping Service:
Consistency Is Key To Effective And Efficient Contractors Strategic Bookkeeping Services
Our Strategic Contractors Bookkeeping Services - System is an assembly line where contractor bookkeeping tasks are divided into groups and assigned by skill level. And everything is reviewed by competent construction accountants who cost us less and we pass the savings on to you!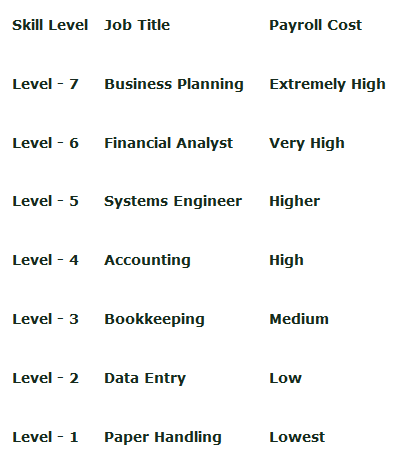 Would You Like Remote Access Your QuickBooks
Anytime And Anywhere?
Cash Report anytime YOU want it!

Receivables report anytime YOU want it!

Payables report anytime YOU want it!

Profit & Loss statement anytime YOU want it!

Balance Sheet report anytime YOU want it!

Job Costing report anytime YOU want it!

Estimates Vs. Actuals report anytime YOU want it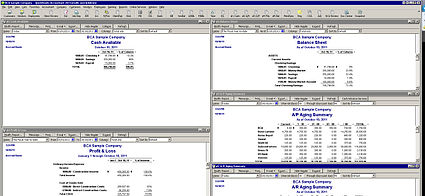 Here Is What Else You Get:
---------------------------------------------------------------------------------
Screenshot Taken In Our Office In Lynnwood Washington
QuickBooks Runs On High-Speed Servers
In A Building With Armed Guards
And Highly Trained Technicians

English speaking, U.S. Based tech support for server support
We maintain and support your QuickBooks data file and reports
QuickBooks software maintenance updates are automatically applied
----------------------------------------------------
Your QuickBooks Command And Control Dashboard!
Paperless document system for storing, retrieving, printing and emailing
Microsoft Word is loaded on the server for your use
Microsoft Excel is loaded on the server for your use
----------------------------------------------------Thinking About Outsourcing Your Contractors Bookkeeping Services To Save Time And Money?
Click On The Button Below To Download A Free Guide

Profitable Construction - Companies have known about the value of outsourced bookkeeping services for a long time and now you know about it too!
For Construction Company Owners who do not need the full power of QuickBooks for contractors and want 24/7 online access we offer Xero Accounting Online and we have custom setup for construction companies. Click Here For More.
We Scan Your Receipts And Invoices link them to QuickBooks transactions where it is appropriate and give you back a CPA-ready packet for your tax return and we provide ongoing Cloud Based Contractors Bookkeeping Services by accountants who understand construction.
Fill

Out The Form And Get The Help You Need!
Need Help Now?
Call Sharie 206-361-3950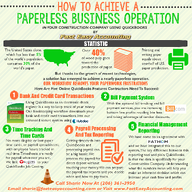 We Are QuickBooks Experts Specializing In Construction Bookkeeping Services
About The Author:

Randal DeHart, PMP, QPA is the co-founder of Business Consulting And Accounting in Lynnwood Washington. He is the leading expert in outsourced construction bookkeeping and accounting services for small construction companies across the USA. He is experienced as a Contractor, Project Management Professional, Construction Accountant, Intuit ProAdvisor, QuickBooks For Contractors Expert and Xero Accounting Specialist. This combination of experience and skill sets provides a unique perspective which allows him to see the world through the eyes of a contractor, Project Manager, Accountant and construction accountant. This quadruple understanding is what sets him apart from other Intuit ProAdvisors and Xero accountants to the benefit of all of the construction contractors he serves across the USA. Visit http://www.fasteasyaccounting.com/randal-dehart/ to learn more.
Our Co-Founder Randal DeHart - Is a Certified PMP (Project Management Professional) with several years of construction project management experience. His expertise is construction accounting systems engineering and process development. His exhaustive study of several leading experts including the work of Dr. W. Edward Deming, Michael Gerber, Walter A. Shewhart, James Lewis and dozens of others was the foundation upon which our Construction Bookkeeping System is based and continues to evolve and improve. Follow Randal on Google+