Payroll Options - Paper Check, Direct Deposit or Debit Card?
When Contractors Ask Us - Which payroll option we recommend most often we say Direct Deposit. The reasons are simple and as usual related to our primary role as "Profit And Growth Specialists For Contractors" and our Primary Mission which is helping you, the men and women of the greatest industry on earth, construction industry to achieve your definition of success. You deserve to be wealthy because you add value to other people's lives.
We Offer Payroll Processing - Using all three options. You pick the one that is best for you. Learn More...
Option 1 - Paper check looks like the least expensive. Calculate payroll hand write or print a paycheck, hand it to your employee and done.
What Is The First - Thing an employee does after getting a paper paycheck? They go to the bank or the check cashing store and get cash!
If They Are Paid For Travel Time - To and from the jobsites they will typically cash their paycheck on the way to the jobsite or take a break as soon as the bank opens.
There Are Three Costs - To consider:
#1 Travel Time - See What Is Ten Minutes Costing Your Company and Multiply By Three! Because it will take ten minutes each way to detour to and from the bank or payday advance company plus ten minutes inside the building.
For Example: You pay your employee $25.00 per hour that means Every Ten Minutes Of Doing Personal Business On Company Time Costs You $5.94 Multiplied By Three Equals $17.82. If Your Company Earns 10% Net Profit Then You Need To Sell Another $178.20 Worth Of Work To Make Up The Loss You Suffered.


If there is more than one worker in the company vehicle simply multiply everything by that number

See The Chart Below:
Every Ten Minutes Your Construction Worker Costs You $5.94
#2 Cost Per Mile - To operate the company vehicle which varies depending on the type of vehicles your company uses. Generally numbers we see are range from $1.25 to $1.75 per mile. This takes into account Fuel + Insurance + Repairs + Maintenance + Registration + License divided by the number of miles driven. In this example we estimate a three mile detour at the middle range of $1.50 per mile = $4.50
#3 Delays On The Job - In construction you are dealing with project based system not an operations or manufacturing based operation. Every additional day you have to mobilize and de-mobilize costs you money. For example if it takes (15) minutes for (4) workers to get setup in the morning and the same amount of time at night your total costs could be $121.92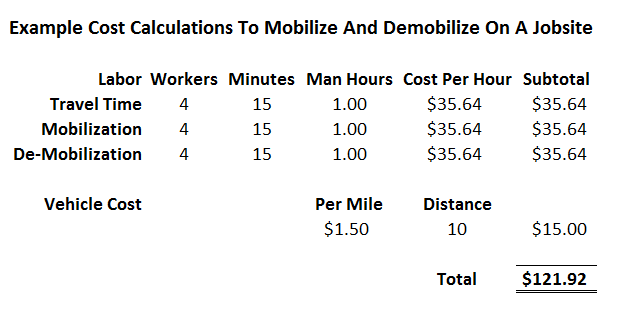 Total Cost For Paper Checks - Between $15.00 and $50.00 per employee. To get the actual results for your company some analysis would need to be run or you would simply look in your Business Process Management System (BPM) for the answers.
Option 2 - Direct deposit could cost an additional $5.00 per payroll and $0.99 per deposit. Direct deposit drops into your employee's bank account one minute after midnight on the day payroll is due. The cost of having a Professional Bookkeeper prepare the payroll is less with direct deposit because of the time saved in preparing and printing the paper checks, setting them aside for you to sign them, stuffing them in the envelopes and taking time to pass them out.
Option 3 - Debit Card is similar to direct deposit. The difference is the employee does not need a checking account.
We Offer Payroll Processing - Using all three options. You pick the one that is best for you. Learn More...
Profitable Construction Companies - Have known about and used this process for a long time and now you can too!

Profitable Construction - Companies have known about the value of outsourced bookkeeping services for a long time and now you know about it too!
Fill Out The Form And Get The Help You Need!
Need Help Now?
Call Sharie 206-361-3950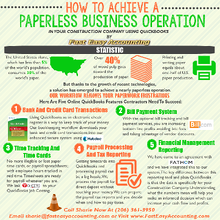 Don't forget, you can hire our services at FastEasyAccounting.com
QuickBooks Expert In Construction Bookkeeping