Contractors Success M.A.P. Podcast List
Episode 0001: Intro To Contractors Success Map Podcast
Back office support can make or break your construction company and that's where we come in. We can do you the most good by bringing order to your chaotic contractors bookkeeping mess! Most of our clients come to us because they believed they needed someone to straighten up their contractors bookkeeping sevices system, help them get current or quarterly payroll tax filings, sales tax returns and a variety of other tax issues. That is only the tip of the iceberg!
Episode 0002: Mission Statement Fast Easy Accounting
Our Primary Mission Is The Men And Women Who are participating in the greatest industry on earth, the construction industry. You dedicate your lives to helping your customers and clients with one of the three primary needs everyone has; housing. Not only housing as a place to live but also the places we work, worship, shop and the roads, bridges, highways and utilities that make civilization possible.
We Are Your Advocate helping you achieve your definition of success. You deserve to be wealthy because you add value to other people's lives.
Episode 0003: Get The Most From Your One Hour No Charge Consultation
Everything You Always Wanted To Know About Outsourced Contractors Accounting But Were Afraid To Ask Because You Believed It Costs A Lot Of Money And You Cannot Afford It!
Episode 0004: Construction Definitions A-F
Why I'm Sharing These Construction Definitions With You:
#1 Break down the barriers of communication
#2 Create a common language of understanding
#3 Bring you, the listener, into the inner circle
#4 Add a bit of humor to your day
Episode 0005: Construction Definitions G-O
Episode 0006: Construction Definitions P-Z
Episode 0007: Contractors Who We Help
Owning and operating a construction company is a challenge. Knowing when and whom you can trust to ask for advice is tricky. We do not have all of the answers and we cannot help you "Get Rich Quick".

We have several decades of combined experience and expertise in owning and operating successful construction companies just like yours and providing worthwhile guidance to a number of contractors just like you.

Our primary specialty is Construction Accounting and using the reports provided to unlock the potential of your particular construction company with our system or Contractor Success M.A.P.
Episode 0008: How We Help Contractors
What is the process? What can you expect? Should you contact us or should you wait until we contact you? However we contact each other, you can expect a friendly construction accountant who understands contactors and construction, someone who likes to talk on the phone and listen to you and wants to hear what you have to say. We have a passion and a calling to help construction contractors
Episode 0009: Next Step For Contractors
The first phone call your initial phone consultation is the starting point of our mutual relationship. We may receive an initial request for information by email, fax or in person however ongoing phone support is an important part of the process – it helps clarify things for both parties and can help put your mind at ease.
Episode 0010: Is Your Contracting Company Too Small?
Several Of Our Best Contractor Clients Came From Bookkeepers Who Overcharged Them Because Their Company Was Too Small. Has this happened to you or someone you know? If so call Sharie at 206-361-3950 and let's talk!
Episode 0011: FAQ Contractors Bookkeeping Services
You Have Three Choices Regarding Your Contractors Bookkeeping And Accounting Service
#1 - Do it all yourself

#2 - Hire A Bookkeeper

#3 - Outsource It

Number One makes sense if you have 10,000+ hours of training and practice required to master Construction Accounting.

Number Two would make sense if it was not so risky and cost so much. I invite you download a Bookkeeper Hiring Guide which has some of the same checklists we use when hiring a new construction bookkeeper. And it would really help if you knew about some of Traits of Bad Bookkeepers.

Number Three can be the least expensive and most financially rewarding or the most expensive of the three options. I invite you download a Contractors Bookkeeping Service Hiring Guide. The key is to make sure you are getting a firm that has a team of people who understand construction bookkeeping and accounting servicing your account, not just one lonely bookkeeper lost and confused 10% of the time and winging it the other 90% of the time. Finally, if your contracting company is the USA for goodness sakes make sure all of your contractors accounting and bookkeeping stays in the USA and preferably in a commercial office and not somebody's house or garden shed.
Episode 0012: FAQ QuickBooks For Contractors
Lots of frequently asked questions regarding QuickBooks for contractors answered here.
Episode 0013: FAQ Xero Accounting Online For Contractors
Lots of frequently asked questions regarding Xero Accounting Online for contractors answered here.
Episode 0014: TSheets Time Tracking For Construction
Tsheets is a great program for tracking time to each construction jobs and specific tasks or Schedule of Values on each job. For example if you are remodeling a house and want to track the time spent on demolition, framing, finish and clean-up. We can customize your QuickBooks setup to do that and more! We are Certified ProAdvisors For TSheets.com and we specialize in construction contractors.
Learn more and get a 14 day free trial click on the link below:

www.FastEasyAccounting.com/TSheets
Episode 0015:The Four Types Of Construction Contractors
This is a lively and entertaining view of The Four Types Of Contractors as described by someone who was raised by contractors, became a contractor and loves contractors
Episode 0016: Why Contractors Hire Our Bookkeeping Services
Why have one lonely bookkeeper struggling to keep up with everything you need to operate and grow your contracting company when you can have a team of U.S. based professional construction accountants, bookkeepers and a virtual construction C.F.O. and save time and money?
Episode 0017: You Don't Need QuickBooks With Our Contractors Bookkeeping Services
You do not have to buy or operate QuickBooks or QuickBooks for contractors in order to outsource your construction bookkeeping. You can still enjoy our contractors bookkeeping services and have online access to your financial reports.
Episode 0018: No Long Term Contractors Bookkeeping Services Contracts
Some bookkeeping firms are pushing one and two-year bookkeeping service contracts and we believe that is wrong! If this is happening to you contact Sharie 206-361-3950 or sharie@fasteasyaccounting.com right away! You will be glad you did!
Episode 0019: Contractors Bookkeeping Headache Relief
Are you suffering construction bookkeeping pain? Do you suspect your contractor bookkeeper - is overwhelmed trying to figure out how to do construction accounting and they are costing you more than they are worth in salary, fees and loss profits because you cannot get QuickBooks reports and financial reports when you need them?
Would you like to reduce your employee count and related overhead costs? Worse yet is your contractor bookkeeping service yanking your chain and training you like an organ grinder trains a monkey? Call Sharie 206-361-3950 or sharie@fasteasyaccounting.com right away! You will be glad you did!
Episode 0020: Contractor Six Pack Marketing Secret
Warning! Contractor six pack marketing Can put you in a higher tax bracket! Because of all the money it can make you if you do it right...which means if you do it at all! Contractor six pack marketing is extremely powerful so be very careful with this one!
Episode 0021: Starting Your Contracting Company Part 1
You started a contracting company and discovered you need a contractor's license and bond and that's when you realized owning a contracting company costs real money an that is when it gets stressful.
You are not alone. Every year thousands of people just like you start contracting companies. Some of them are handyman services; general contractors, home builders, commercial tenant improvement contractors, electricians, plumbers, HAVA contractors and hundreds more.
Episode 0022: Starting Your Contracting Company Part 2
Episode 0023: Emerging Contractor Defined
Contracting is an excellent career choice for a select few it is a calling. A professional contractor may wear work boots, tool belt and a hard hat every day and they are on a mission to make our homes and businesses a better place to live, work and play. Who is an emerging contractor?
Episode 0024: Emerging Contractor Support
Emerging contractors welcome here. Any construction company that is ready to take a long hard look at what has worked not worked and map out a strategic plan for the future. This includes brand new contractors, seasoned contractors that have been in business since dirt was two days old and everyone in between. It is limited to construction companies with sales last year between $0 and $5,000,000 where the owners are actively involved in the company's operations.
Episode 0025: Contractors Add On Sales Increases Cash Flow And Profits
Why are add on sales are so profitable? Because you have already incurred marketing and mobilization costs. Marketing costs are what is cost your company to acquire and maintain the job. Depending on how you allocate marketing dollars as a percentage of sales or fixed budget will have an impact on your marketing cost per job. Your cost-per-call, closing ratio and other related information is all part of your operations, accounting and contractor bookkeeping reports.
Episode 0026: Why Contractors Accept Credit Cards
Your Customers And Clients Want To Use Their Credit Cards For Construction Projects.
Unplanned Emergencies - Are stressful enough now add "how am I going to pay for this" to the mix increases the anxiety! For most people cash in short supply which leaves using a credit card, getting a bank loan or selling something to raise cash as their best options?
For Example - Homeowner with leaking roof is going to get it fixed right away because rain water is damaging the interior of their home including some irreplaceable sentimental treasures including items passed down from parents and grandparents.
Who Will They Call? - You I hope! If you are their contractor and they like and trust you likely they will.
Accepting All Credit Cards - Makes you the hero because they get instant financing and your Electronic Armored Car takes your money to the bank.
Episode 0027: Stop Borrowing Money At 18% And Lending At 0%
You Are Not A Bank - Never use your high interest credit cards and supplier accounts to provide financing to your customers in the form of providing a lot of labor, material, subcontractors and rental equipment hoping to get paid later on down the road.

McDonalds Restaurants Earns - Massive profits and part of the reason is cash flow. I love their business model; customers order first, pay second and get food last. No invoicing, no waiting for the check to arrive and hoping it will clear the bank. They say just Show Me The Money!

You Can Offer Financing - Accept credit cards! Get setup at a bank and/or credit union that will offer to loan your construction client's money for small projects under $25,000. They sign paperwork with the lender; you do the work and get paid.
Episode 0028: Contractor's Bookkeeper Hiring Guide Part 1
Hiring a bookkeeper for your contracting company is nothing like hiring a construction worker. Would it be a fair statement to say you know what to ask when hiring a construction worker for your contracting company?
If you need a Licensed Journeyman, you know what to ask for and you know what to expect. If you need an apprentice, you know what to look for and what to expect. In most cases, you take over where their parents left off; however, that is a topic for another podcast.
The first thing you need to be aware of is not all accounting is the same. Just because someone is skilled in framing spec houses does not mean they can suddenly install expensive wood trim and perform finish carpentry in the home of your most valuable client and the reverse is true as well isn't it?
Episode 0029: Contractor's Bookkeeper Hiring Guide Part 2
Episode 0030: Contractor's Bookkeeper Hiring Guide Part 3
Episode 0031: Contractor Bookkeeping Service Hiring Guide Part 1
If you need a Licensed Journeyman, you know what to ask for and you know what to expect. If you need an apprentice, you know what to look for and what to expect. In most cases, you take over where their parents left off; however, that is a topic for another podcast.

The first thing you need to be aware of is not all accounting is the same. Just because someone is skilled in framing spec houses does not mean they can suddenly install expensive wood trim and perform finish carpentry in the home of your most valuable client and the reverse is true as well isn't it?

Just because a bookkeeping service provides regular bookkeeping services does not mean they can perform construction accounting services. Regular bookkeeping is similar to production framing in a tract home development. Construction bookkeeping is similar to building custom home for a demanding client.

One is fast and furious and requires very little skill and training and the other is slow and deliberate and requires immense skill and training. Don't put your contracting company in the wrong hands, get all the facts then decide.

Download the Contractor Bookkeeping Service Guide And Get The Answers To All Your Questions

www.fasteasyaccounting.com/contractors-bookkeeping-services-guide-for-construction-accounting-and-bookkeeping/
Episode 0032: Contractor Bookkeeping Service Hiring Guide Part 2
Episode 0033: Contractor Bookkeeping Service Hiring Guide Part 3
Episode 0034: Contractor Bookkeeping Service Hiring Guide Part 4
Episode 0035: Marketing Tip For Specialty Contractors Get More GC's
Deliver A Dozen Donuts, Pastries, Muffins Or Any Tasty Bakery Product!
A lot of contractors are having challenges adapting to the new economy. Trade contractors who rely on the same general contractors they did a few years ago to supply jobs to bid on are finding it more challenging as well.
If you are a trade contractor, subcontractor or whatever you call yourself and you want more opportunities to bid jobs this one marketing method works and works big no matter where you are located. Big city small town, it does not matter.
Every general contractor gets hundreds if not thousands of sub-contractors, trade contractors, suppliers, bankers, customers and even construction accountants asking for something. So if you want to stand out in the crowds use this tiny bit of construction psychology because it works!
Episode 0036: Emergency Bookkeeping Service For Contractors
Having a QuickBooks emergency? QuickBooks is a mess and you need it fixed now! Call the contractor bookkeeping experts 206-361-3950 or email sharie@fasteasyaccounting.com
Episode 0037: Why Bookkeeping Takes Longer And Is Painful When Contractors Do It
Episode 0038: Getting Paperwork To Us Is Fast And Easy
Episode 0039: Contractors Marketing Tip Connect With Realtors For More Jobs
Episode 0040: Key Performance Indicators (KPI) For Contractors
Episode 0041: Construction Accounting Vs. Regular Accounting
Episode 0042: Construction Accounting Personalities
Episode 0043: What Makes Our Contractors Bookkeeping Service Different
Episode 0044: Dog And Pickup Truck Contractor
Episode 0045: Salt Of The Earth Contractor
Episode 0046: Professional Contractor
Episode 0047: Contractors Cloud Reporting With Qvinci
Episode 0048: Enterprise Contractor
Episode 0049: Contractors Bookkeeping Services Fixed Price Vs. Hourly?
Episode 0050: Ten Thousand Hours To Master Construction Accounting
Episode 0051: QuickBooks For Contractors Cloud Computing Vs QuickBooks Online
Episode 0052: How Service Agreements Can Increase Contractor Profits And Net Worth
Episode 0053: Contractors Success Map 21 Top Signs Of Embezzlement
Episode 0054: Contractors Success Map Unique Tips For Construction Company Start Up Part 1
Episode 0055: Contractors Success Map Unique Tips For Construction Company Start Up Part 2
Episode 0056: Contractors Success Map Unique Tips For Construction Company Start Up Part 3
Episode 0057: Contractors Success Map Construction Apprentice Thinking Patterns
Episode 0058: Contractors Success Map We Remove Contractors Unique Paperwork Frustrations
Episode 0059: Contractors Success Map Emergency Contractor Accounting Services
Episode 0060: Contractors Success Map Which QuickBooks Cloud Option Is Best For Contractors
Episode 0061: Contractors Success Map Interview With Sean Kavanaugh Part One

Episode 0062: Virtual Vs. Outsourced Contractor Bookkeeping
Episode 0063: Contractors Success Map About Owning A Construction Company
Episode 0064: Contractors Success Map QuickBooks Support Hold Time
Episode 0065: Contractors Success Map Why Your Construction Company Needs Bookkeeping
Episode 0066: Outsourced Contractor Bookkeeping Services Vs. Jobs
Episode 0067: Contractors Success Map Why It Pays To Offer Employee Advances
Episode 0068: Why Contractors Bookkeepers Embezzle And Steal
Episode 0069: Contractors Success Map Be Do Have
Episode 0070: Contractors Success Map Board Of Advisors

Episode 0071: My Stepfather's Inspiration
Episode 0072: Why Good Tax Accountants Make Bad Contractor Bookkeepers
Episode 0073: Leveling Up Makes Contractors Wealthy
Episode 0074: Our Contractors Accounting Services Unique Differences
Episode 0075: Contractors Success Map Internal Revenue Service QuickBooks
Episode 0076: How Our QuickBooks Backup Saved A Contractor's Company
Episode 0078: Contractors Success Map QuickBooks Setup For Contractors
Episode 0079: What To Do When Your Bookkeeper Leaves You Stranded
Episode 0080: Contractors Success Map BCG Matrix For Your Construction Company
Episode 0081: Bookkeeping Services For Contractors Using QuickBooks
Episode 0082: Business Round Table Where Contractors Learn How To Fail!

Episode 0083: Secrets Of Successful Construction Companies
Episode 0084: High Profit Small Contractors Use OPM Working Capital
Episode 0085: Contractors Success Map Interview With Sean Kavanaugh Part Two
Episode 0086: Warning Signs You Hired The Wrong Contractor Bookkeeping Service
Episode 0087: Which Costs Your Contracting Company More Money Bookkeeper Theft Or Incompetence?
Episode 0088: How Business Process Management Strategy Can Benefit Your Construction Company
This Is Only The Tip - Of the Iceberg. Everything we publish in our blog posts, articles in other websites, and anything you can find on the web is nothing compared to what is available to you as our client. We show only the basic tools to open your mind to the possibilities that are available to you. The best finish carpentry tools in the hands of a golf professional without proper carpentry training will not produce anything near to what a skilled finish carpenter can. The same can be said about the best construction business consulting and accounting tools in the hands of a skilled finish carpenter. And I say that with respect and admiration for everyone in construction.
When You Become A Client - Then we can tap into our resources of knowledge and strategy banks. We use the reports hidden in your QuickBooks in order to diagnose and understand your construction business and develop plans and help you implement a path to success for you and you alone because every contractor has unique Strengths, Weaknesses, Opportunities and Threats (S.W.O.T. Analysis) that when understood can lead to a Strategic Roadmap which cannot help but make a lot of money.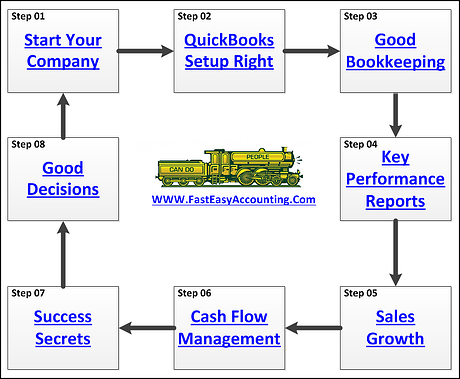 If You Are A Contractor You Deserve To Be Wealthy
Because You Bring Value To Other People's Lives!
This Is One More Example of how Fast Easy Accounting is helping construction company owners just like you put more money in the bank to operate and grow your construction company. Construction accounting is not rocket science; it is a lot harder than that and a lot more valuable to people like you and me so stop missing out! Call Sharie 206-361-3950 or sharie@fasteasyaccounting.com and schedule your no charge one-hour consultation.
Profitable Contractors and Construction Company owners have known about the value of outsourced bookkeeping services and contractor coaching services like ours for a long time and now you know about it too!
We Scan Your Receipts And Invoices link the appropriate transactions to QuickBooks or Xero Accounting Online depending on the construction accounting service you are using and provide ongoing Cloud Based Contractors Bookkeeping Services by accountants who understand construction.
Thinking About Outsourcing Your Contractors Bookkeeping Services?
Click On The Button Below To Download A Free Guide

Need Help Now?Call Sharie 206-361-3950sharie@fasteasyaccounting.com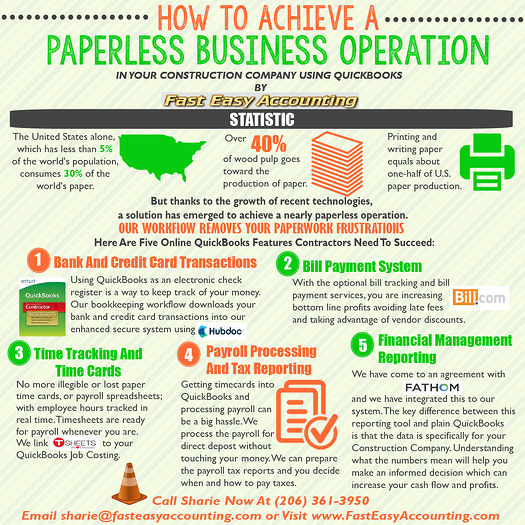 We Are Construction Accounting Experts Specializing In Construction Bookkeeping Services For Contractors All Across The USA Including Alaska And Hawaii
About The Author:

Randal DeHart, PMP, QPA is the co-founder of Business Consulting And Accounting in Lynnwood Washington. He is the leading expert in outsourced construction bookkeeping and accounting services for small construction companies across the USA. He is experienced as a Contractor, Project Management Professional, Construction Accountant, Intuit ProAdvisor, QuickBooks For Contractors Expert and Xero Accounting Specialist and Bill.Com Certified Guru. This combination of experience and skill sets provides a unique perspective which allows him to see the world through the eyes of a contractor, Project Manager, Accountant and construction accountant. This quadruple understanding is what sets him apart from other Intuit ProAdvisors and Xero accountants to the benefit of all of the construction contractors he serves across the USA. Visit http://www.fasteasyaccounting.com/randal-dehart/ to learn more.
Our Co-Founder Randal DeHart - Is a Certified PMP (Project Management Professional) with several years of construction project management experience. His expertise is construction accounting systems engineering and process development. His exhaustive study of several leading experts including the work of Dr. W. Edward Deming, Michael Gerber, Walter A. Shewhart, James Lewis and dozens of others was the foundation upon which our Construction Bookkeeping System is based and continues to evolve and improve. Follow Randal on Google+
Contractor Bookkeeping And Accounting Services
| | | | | |
| --- | --- | --- | --- | --- |
| | | | | |

Don't forget, you can hire our services at FastEasyAccounting.com