Contractors Application For Payment
Fast Easy Accounting Checklist
In order for us to properly complete your contractors application for payment and send it to you for your review we will need the following information. which can be downloaded by clicking on the button below.

Fill Out The Form On The Right And Download The List

The list Includes:
Owner Name - Person or company who will be paying you
Owner Mailing Address - Where the Pay application will be sent. We do not send anything to your customer without your permission.
Your Construction Company - Legal name or company name and mailing address
Project Name - A short name that best describes the project.
Project Address - Including building name, floor, suite and anything that describes the project location.
Architect Name And Address - Mailing address of the architect is there is one assigned to project.
Other People Or Company(s) Name And Addresses - Who will get a copy of the contractors application for payment.
Distribution List - Who gets a copy of the contractors application for payment? Owner, contractor, architect, other? Anybody getting a copy of the contractors application for payment not listed above.
Retention - Not all projects have retention withheld; however if this one does we need to know the percentages for Work-In-Place (WIP) and Stored Material (SM).
Deposits - Students of Business Consulting And Accounting, part of Fast Easy Accounting understand that contractors are not bankers which means they do not finance their customers construction projects at 0% interest by using their company's cash flow, business and personal credit cards, business and personal loans, lines of credit all of whch cost more than 0% interest. So if you get deposits in advance we need to know dates and amounts.
Schedule Of Values (SOV) - This is one of those construction definitions that has serveral meanings:
List of descriptions for each part of the project that you are doing including the cost for each item.

Copy of the approved contract showing items and cost breakdown.

Estimate showing items and sale price (not your cost).

Milestones and costs.

Work Breakdown Structure (WBS).

List of discrete work packages with costs for each one.

Construction Specification Institute Codes (CSI)

Craftsman contractors QuickBooks setup item codes

Your QuickBooks setup item codes

Standard QuickBooks setup item codes

Fast Easy Accounting QuickBooks setup item codes
Change Orders - This is one of those construction definitions that has serveral meanings, change orders and additional work orders. Whatever you call them we will need a list of descriptions for each one and the net amount of increase or decrease.
Contractors - Who are part of our "Bookkeeping For Contractors Program" have the proper shedule of values already in their QuickBooks on the remote access QuickBooks server as part of their QuickBooks setup.
Profitable Construction - Companies have known about and outsourced bookkeeping for a long time and now you know about it too!
If You Would Like To Learn More About Our contractors application for payment Service Simply Fill Out The Form And Get The Help You Need!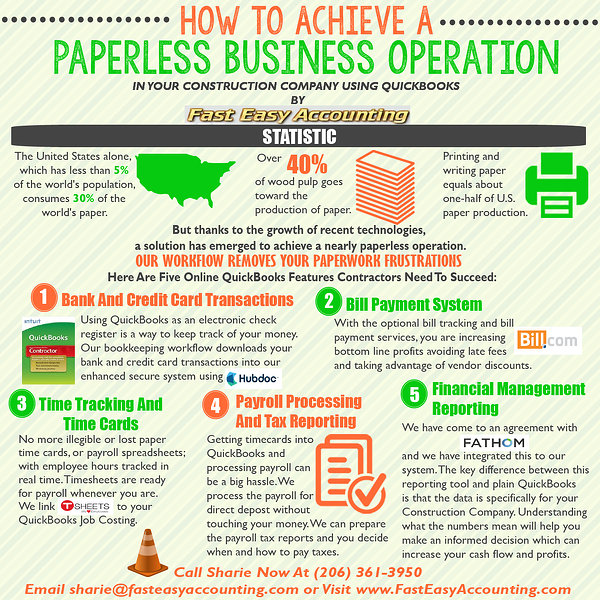 About The Author:

Randal DeHart, PMP, QPA is the co-founder of Business Consulting And Accounting in Lynnwood Washington. He is the leading expert in outsourced construction bookkeeping and accounting services for small construction companies across the USA. He is experienced as a Contractor, Project Management Professional, Construction Accountant, Intuit ProAdvisor, QuickBooks For Contractors Expert and Xero Accounting Specialist and Bill.Com Certified Guru. This combination of experience and skill sets provides a unique perspective which allows him to see the world through the eyes of a contractor, Project Manager, Accountant and construction accountant. This quadruple understanding is what sets him apart from other Intuit ProAdvisors and Xero accountants to the benefit of all of the construction contractors he serves across the USA. Visit http://www.fasteasyaccounting.com/randal-dehart/ to learn more.
Our Co-Founder Randal DeHart - Is a Certified PMP (Project Management Professional) with several years of construction project management experience. His expertise is construction accounting systems engineering and process development. His exhaustive study of several leading experts including the work of Dr. W. Edward Deming, Michael Gerber, Walter A. Shewhart, James Lewis and dozens of others was the foundation upon which our Construction Bookkeeping System is based and continues to evolve and improve. Follow Randal on Google+