Your Construction Company Business Development Outline
The Key To Peace Of Mind - And a reasonable profit in any firm is a strategic management system that orchestrates Finance, Marketing and Production to work together to Produce Predicable Results.
Strategic Management System:
Marketing never sells more than Production can deliver; on-time and on-budget

Production delivers the project with the goal of exceeding customer expectations

Finance manages the money to maintain operations and produce a reasonable profit
Step 1 Document Owner's Business Targets For 1,3,5 Years And Exit Strategy
Determine the owner's needs in relation to what the business could provide
Step 2 Current Method For Managing Cash, Reducing Taxes And Growing Profits
Document the owner's collection and payables policies, payroll vs. dividends, 80 /20 rule
Step 3 Is QuickBooks Setup To Manage Cash, Reduce Taxes And Grow Profits
Outsource bookkeeping, accounting, local, state, and federal tax preparation, back-office work
Step 4 Move To Paperless Document Management For Record Keeping
Online storage and retrieval system to organize and managing documents frees up office space
Step 5 Review Job Profitability Reports, Draft Fundamental Marketing Plan
Direct all marketing and advertising to the target demographic / psychographic market
Step 6 Document Current Operating Procedures And Organizational Chart
Develop an understanding of the current strategic and tactical work being done in the business
Step 7 Review The Owner's Targets And Draft Initial Business Plan
The initial strategic management plan used to run the business with reduced owner involvement
Step 8 Update The Organizational Chart To Reflect The Positions
Reflect the new positions in the firm and how they will interrelate
Step 9 Develop Operations Manuals For Positions In Organizational Chart
Operations manuals guide everyone to produce predictable, stable, results and long-term profits
Step 10 Integrate The Marketing Plan Into A Comprehensive Business Plan
Finish the strategic management plan for the business to run without direct owner involvement
Step 11 Establish Continuous Improvement Processes To Grow Profits
Develop feedback loops from internal and external sources to continuously improve the system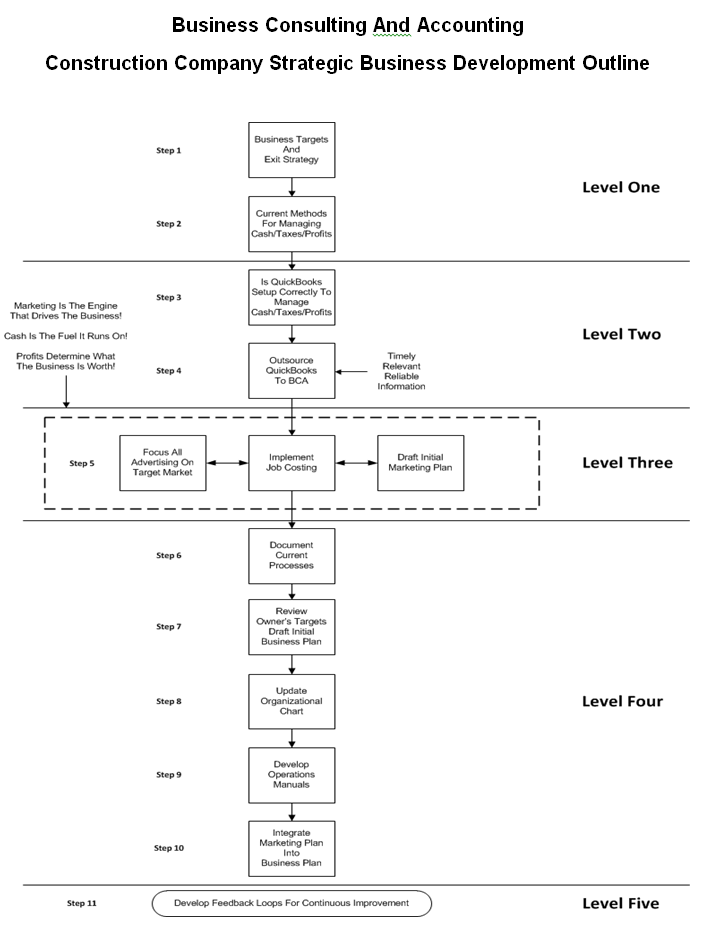 Fill Out The Form To Download The Diagram
Profitable Construction - Companies have known about the value of outsourced bookkeeping services for a long time and now you know about it too!
For Construction Company Owners who do not need the full power of QuickBooks for contractors and want 24/7 online access we offer Xero Accounting Online and we have custom setup for construction companies. Click Here For More.
We Scan Your Receipts And Invoices link the appropriate transactions to QuickBooks or Xero Accounting Online depending on the construction accounting service you are using and provide ongoing Cloud Based Contractors Bookkeeping Services by accountants who understand construction.
Thinking About Outsourcing Your Contractors Bookkeeping Services?
Click On The Button Below To Download A Free Guide

Fill

Out The Form And Get The Help You Need!
Need Help Now?
Call Sharie

206-361-3950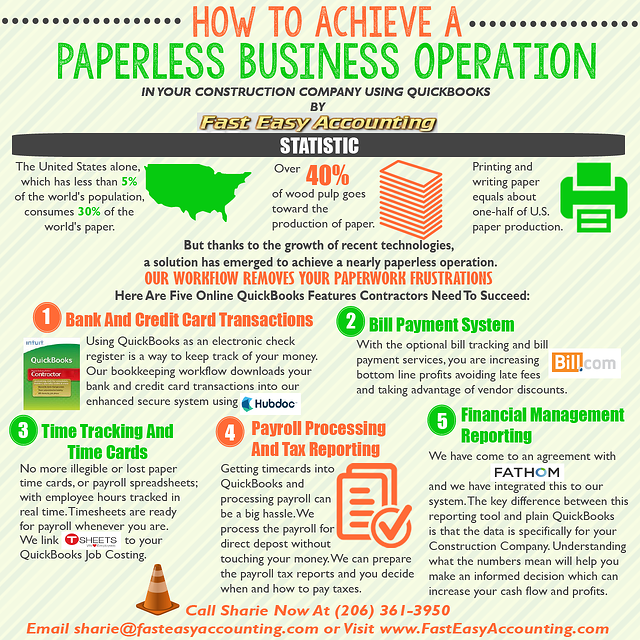 We Are QuickBooks Experts Specializing In Construction Bookkeeping Services
About The Author:

Randal DeHart, PMP, QPA is the co-founder of Business Consulting And Accounting in Lynnwood Washington. He is the leading expert in outsourced construction bookkeeping and accounting services for small construction companies across the USA. He is experienced as a Contractor, Project Management Professional, Construction Accountant, Intuit ProAdvisor, QuickBooks For Contractors Expert and Xero Accounting Specialist and Bill.Com Certified Guru. This combination of experience and skill sets provides a unique perspective which allows him to see the world through the eyes of a contractor, Project Manager, Accountant and construction accountant. This quadruple understanding is what sets him apart from other Intuit ProAdvisors and Xero accountants to the benefit of all of the construction contractors he serves across the USA. Visit http://www.fasteasyaccounting.com/randal-dehart/ to learn more.
Our Co-Founder Randal DeHart - Is a Certified PMP (Project Management Professional) with several years of construction project management experience. His expertise is construction accounting systems engineering and process development. His exhaustive study of several leading experts including the work of Dr. W. Edward Deming, Michael Gerber, Walter A. Shewhart, James Lewis and dozens of others was the foundation upon which our Construction Bookkeeping System is based and continues to evolve and improve. Follow Randal on Google+
Our Co-Founder:

Sharie DeHart, QPA, is the President of Business Consulting And Accounting (Fast Easy Accounting) in Lynnwood, Washington. She is the leading expert in managing outsourced construction bookkeeping and accounting services companies and cash management accounting for small construction companies across the USA. She encourages Contractors and Construction Company Owners to stay current on their tax obligations. She offers insights on managing the remaining cash flow to operate and grow their construction company sales and profits so they can put more money in the bank. Call 1-800-361-1770 or sharie@fasteasyaccounting.com.