---
Today's Guest Article Is From Adam Bluemner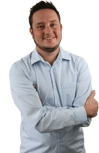 Nobody wants to pay extra for a service they buy.

The premise behind signing up for support and software version updates is pretty clear. You spend a bit extra up front to protect your investment and to prevent even bigger costs down the road.

But is it all worth it?

It's a question you can only fully answer by considering the costs in light of the specific benefits a support and update contract can provide.

Let's take a quick look at the four main advantages to paying for a support/update contract and why these advantages will help you in the long run.
Read More