---
Today's Guest Article Is From K. Shakti Prasad

Back in the days when an estimation (be it cost estimation or the estimation of materials) had to be done, the estimators had to start with digitalizing the architectural or engineering drawings into an estimation package or the worst, to do manual takeoffs from the design drawings. This process was in no way an easy task rather a strenuous and time-consuming process with the risk of human error and propagate any inaccuracies that may be in the original drawings.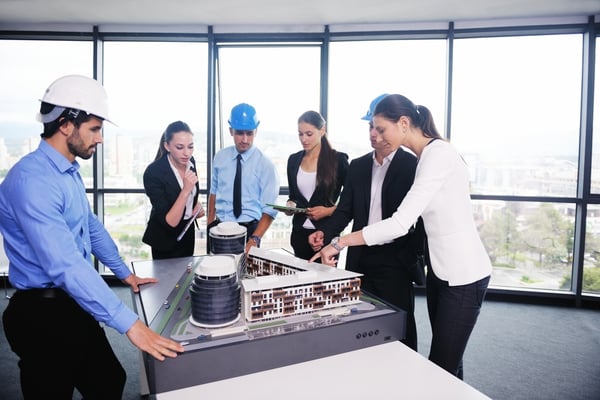 ---
It is of no doubt that BIM was the revolutionizing technology of the 21st century and it still continues to be. BIM has greatly been of help to engineers and architects by providing easier and effective ways to collaborate for maximum productivity. As years traversed the ray has changed, BIM has evolved itself to be a tool that is meant to be used only by the designers and engineers, rather it has become a reliable tool for the estimators too.
How 5D BIM models help save time for cost estimation?
As 3D BIM models gained traction in AEC industry the advanced models like 5D BIM is being widely used for various estimation purposes. A 5D BIM model is an extension of a 3D model, in which the assemblies and components in an estimating database are connected to the objects in the 3D BIM model.
In a recent study carried out on cost estimation, it was found that 60-80% of the time required for cost estimation is spent on quantification. Making use of the 5D BIM models for estimation instead of the 2D drawings, Cost estimation along with the takeoffs and measurements can be directly generated. BIM being a live model has an additional advantage when it comes to estimation, as any change made to the design at any stage of the construction phase will automatically be implicated to all related documents, schedules, takeoffs and measurements that are used by the estimator.
The time saved by automating the strenuous task of quantifying can be used by estimators to focus on higher value project factors like identifying construction assemblies, generating prices, and so on.
What are the benefits of BIM based cost estimation?
Saves a significant amount of time: The time for cost estimation will be significantly improved by using 5D BIM models for cost estimation. Incorporating BIM for cost estimation is a proven technology which enables one to perform takeoffs at a pace of three to five times faster than before.
Faster change management: It isn't uncommon in a construction industry to find out that the enormous effort put on finishing a large takeoff has been nullified by a change made in design. BIM being a live model can be advantageous in this situation because it provides a platform to isolate and evaluate the newly made changes quickly.
Tips on implementing BIM for cost estimation
Don't Procrastinate: There isn't a thing called perfection of a model when it comes to construction, every model is constantly subjected to modification and improvements. Waiting too long to implement BIM based cost estimation would result in missing an opportunity.
It's ok to start small:

"The journey of a thousand miles begins with a single step". The transition to BIM based estimating will not happen overnight, it is a slow and steady process. Work on identifying the available opportunities, ideal projects and teams to gain valuable lessons towards establishing a new process.
Make the best out of what you have in hand:

Use what is available and leverage the most out of it. Always have a backup for estimation, falling back to a familiar territory is never a bad thing to do. When beginning, try using an estimating system easy enough to efficiently blend 2D and 3D estimation process.
Establish the right team: Apart from technology, having an ideal workforce is imperative for a firm to have a successful track record. Make a team of employees who are willing to get the job done by using new technologies. An ideal team should have representation from estimating, constructability analysis and BIM management team. Ensure that the team members are motivated enough to clear all the hurdles that may come in their way.
Keep yourself updated:

Technology matters big time when it comes to doing cost estimation using 5D BIM models. Make use of fully integrated cost planning and estimating software packages which allow construction-calibre quantities, iterative cost planning, precise budget tracking and complete target cost analysis.
---
CONCLUSION:
Engineers and architects in the AEC industry strive towards shortening project schedules, lowering costs, and improving the overall quality of design, construction and operation. This goal can only be achieved by unlocking the complete potential of 5D BIM models. The transition from using the traditional cost estimation measures to BIM will not be a walk on the beach but it is worth taking all the risks for.
---
About The Author:
K. Shakti Prasad is a budding content writer working with Advenser engineering services. He has more than 5 years of experience in working as a freelance writer for various blogs and websites. He is passionate to write about any topic he finds interesting. Apart from writing he is a travel enthusiast and has a keen interest in music.
---
The Information Shown Below Is From Fast Easy Accounting
OUTSOURCED ACCOUNTING FOR
THE BUSY CONTRACTOR
IN A MOBILE ENVIRONMENT
Download the Contractors APP today

from the App Store or Android Store
Access Code: FEAHEROS
Click here to download the App on Android:
Click here to download the App on iOS:
Simply scan the QR code or search for 'MyAccountants' in the App Store and enter the Access code: FEAHEROS to utilize the powerful App features and capabilities, and benefit from having our Construction Accounting App at your fingertips, 24/7."
PS: Even if you are not a Construction Contractor you will find a plenty of benefits in the app so we invite you to download it too! It's Free so why not?